Truck Accident Lawyers in Erie, PA
The result of a big rig truck crash is serious damage to the passenger vehicle and everyone inside. As the survivor of a semi truck accident or the loved one of someone who passed away, you have rights in Pennsylvania – including the right to pursue financial recovery. The team at Dallas W. Hartman P.C., is here to help. speak with an experienced Erie truck accident attorney today at our law firm to get started with your case.
Do You Need A Erie Truck Accident Attorney?
The vast majority of trucking personal injury cases happen because someone made a mistake or lapse in judgment that made the situation unsafe. An act of negligence can occur anywhere down the line – from the manufacture of the tractor-trailer to truck drivers behind the wheel. It's important to retain an Erie truck accident lawyer for an in-depth examination of the crash and the one or more factors that contributed. Identifying the proximate cause of an accident is one of the first steps toward recovering compensation in accident cases. A truck crash in Erie can stem from:
Broken federal trucking law
Poorly maintained fleet vehicle
Inadequately loaded cargo
Lack of employee training
Roadway defect
Who Is Responsible In a Commercial Truck Accident in Erie?
A truck accident in Erie, Pennsylvania can come down to the fault of truck drivers, trucking companies, product manufacturers, or several other parties. In Pennsylvania, more than one party can share fault for a single accident. Shared fault laws are good news for personal injury victims, because it expands the opportunities to collect compensation from more than one person or entity. The state of Pennsylvania also follows a modified comparative negligence rule. This means that even if the injured party contributed to the crash, he or she may still be eligible for compensation.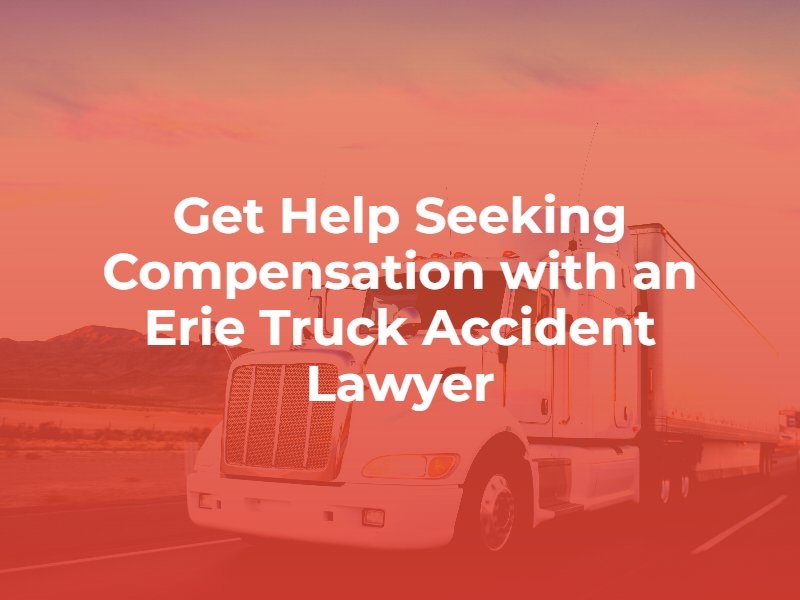 What Causes Truck Accidents in Erie, PA?
Erie would not be the thriving metropolis it is today without the trucking industry. Yet what do citizens have to give in return? At Dallas W. Hartman P.C., our Erie truck accident attorneys believe even one tractor-trailer accident-related death is too many. We've seen firsthand that almost all trucking accidents are preventable and happen because of negligence, recklessness, or the wanton disregard of traffic laws and the safety of others. Our team of truck accident lawyers in Erie make it our duty to bring negligent parties to justice when they cause serious and fatal injuries to others in truck crashes. If you have a loved one that passed away in a fatal truck collision, get immediate help from our Erie wrongful death attorneys.
When Truck Failure Caused Accidents – Top Factors in Pennsylvania in 2017
| | |
| --- | --- |
| Causes | Collisions |
| Tire/Wheel Related | 102 |
| Brake-Related | 70 |
| Power Train Failure | 24 |
| Unsecured Trailer | 24 |
| Total Steering System Failure | 20 |
| Suspension | 11 |
| Trailer Hitch/Improper Towing | 10 |
| Vehicle Light Related | 6 |
| Exhaust System Failure | 3 |
| Other Failure | 3 |
| Total | 273 |
Source: PennDOT
Pennsylvania recorded 151 deaths related to heavy truck accidents in the most recent year data is available. Hundreds of more victims went to the hospital with minor to serious injuries. A total of 7,168 heavy trucks were involved in crashes throughout the state the same year. The City of Erie plays a major part in the state's commercial trucking industry, with thoroughfares such as I-90, I-79, I-86, Route 19, Pennsylvania Route 5, and U.S. Route 20 running through the city. Major trucking companies pass through Erie on their way to pick up and deliver thousands of tons of cargo.
Contact an Erie Truck Accident Lawyer For a Free Consultation
Speak to an Erie truck accident lawyer at Dallas W. Hartman P.C., for counsel about who could be liable for your particular truck accident case. Contact us today! Call (814) 461-8844 to schedule a free consultation with our Erie personal injury attorneys.