Pittsburgh Defective Product Attorney
When you suffer a serious injury caused by a defective product, the experience can be extremely traumatic. No one can reverse the past, but Dallas can help you obtain a fair recovery. The Pittsburgh personal injury lawyers at Dallas W. Hartman, P.C. are experienced in handling many types of product liability cases.
Why Choose Us?
Our law firm has achieved

record-setting verdicts

. Our history of success can lead to greater settlements being offered to our clients since insurance companies wish to avoid trials.

The attorneys at Dallas W. Hartman P.C. are dedicated to our clients in Pittsburgh and throughout Pennsylvania. We

have a reputation

for exceptional customer service, hard work and real results.

Our Pittsburgh defective product attorneys operate on a contingency fee basis. This means you won't pay us anything in fees unless we win your case.
What is Product Liability?
Product liability can be when a manufacturer or seller is being held responsible for placing a defective product into the hands of a consumer. Product manufacturers have a legal duty to ensure the reasonable safety of their products. Items released to the public must adhere to strict standards and pass thorough safety tests. Responsibility for a defective product that caused the injury can lie with all sellers of the product including:
the manufacturer
a manufacturer of component parts
the wholesaler

the distributor

the retail store that sold to the end consumer
The law requires that a product meet the ordinary expectations of the consumer. If a product has an unexpected defect or danger and has caused an injury, it may be defective. In this scenario, the manufacturer or another party could be held liable, or legally and financially responsible, for the consumer's injury, property damage or death. If you or a loved one has been injured, you may be entitled to financial recovery.
How Can a Product Liability Lawyer in Pittsburgh Help? 
You may be feeling overwhelmed by the severity of your injuries, the costs of medical care and the complexity of filing a claim, as well as adjusting to other changes in your life after suffering a serious injury from a defective product. Hiring a product liability lawyer in Pittsburgh can immediately lift the burden of the legal process from your shoulders. You can rest and concentrate on healing while your attorney explains your legal rights, assesses your options, thoroughly investigates the incident, and takes legal action against the right party or parties on your behalf. 
A law firm has the capability of conducting a full investigation of a defective product and the manufacturer or distributor that is responsible for the product. Your lawyer can identify any defects in how the item was designed, created or advertised, as well as collect evidence against the defendant(s). Then, your lawyer can aggressively negotiate a fair financial outcome for you during an insurance claim or lawsuit. Your lawyer will have the resources, connections to experts and proven tactics to help resolve your case.
What Are the Types of Product Defects?
There are three types of defects that might cause injury: design defects, manufacturing defects, and marketing defects.
Design defects are present in a product from the beginning before it is manufactured. A design defect is some flaw in the design of a product that makes it unreasonably dangerous. For example, if the high chair was designed with three legs, so it tipped over very easily – that would be a design defect.
Manufacturing defects are those that occur in the course of a product's manufacture or assembly. For example, if a car were missing a part that would help cool the engine and the car caught fire, that would be a manufacturing defect.
Marketing defects are flaws in the way a product is marketed, such as improper labeling, false advertising, insufficient instructions, or inadequate safety warnings. The most famous product liability case involved a woman who was burned by hot coffee. Today, many coffee cups as well as other food containers are printed with warning labels.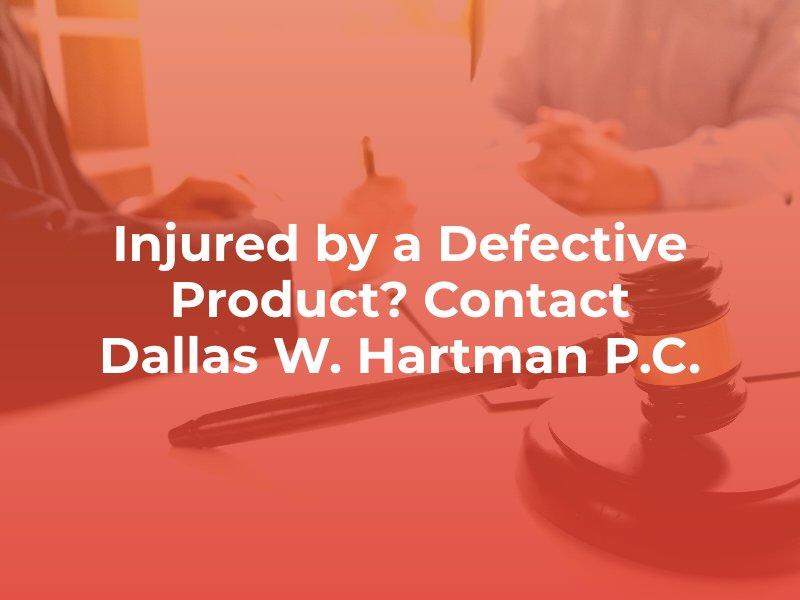 Strict Product Liability Laws in Pennsylvania
Pennsylvania law has a legal doctrine known as strict liability that may apply to product liability claims in Pittsburgh. Under the strict liability rule, a product manufacturer or defendant can be held liable for harm caused by a defect even if the defendant took all possible care in the design, manufacture and marketing of the product. In other words, an injured consumer does not necessarily have to prove that the defendant was negligent to qualify for compensation.
In general, one of two tests is used to determine if the strict liability doctrine can apply to a defective product case: the consumer expectation test and the risk utility-benefit test. If the plaintiff can show that the product had a defect that was dangerous beyond an ordinary consumer's expectation during normal use or that the probability of serious harm caused by the product outweighed the burden or cost of taking precautions to avoid injury, the strict liability rule will apply.
The strict product liability law may apply to a case if the plaintiff's side can prove that 1) the product was being used as the manufacturer intended, 2) the product contained one of the three types of defects mentioned above and 3) the defective product is what caused the victim's injury. This doctrine is in place to help protect consumers by making it easier for them to hold large and powerful manufacturing companies accountable for dangerous and defective products.
Defective Products at Work in Pennsylvania or Ohio
When you go to work every day, you have the right to expect that the equipment you work with has been tested and proven safe for your use. Manufacturers of industrial equipment are held to many of the same high standards for product safety and warnings as any producer of consumer products. When you start work every day, you don't give up your civil rights.
If you have been injured because of a defective or dangerous product on your job, you are entitled to apply for workers' compensation benefits. But you may also be entitled to seek additional compensation from the manufacturer held liable for the defect or improper warnings. These are typically called "third-party" liability claims. The amount you recover in an insurance settlement or jury award in this type of lawsuit can make up the full amount of losses when workers' compensation benefits fall short.
We Are Here for Injured Workers in Pittsburgh
Dallas W. Hartman, P.C. is your single source for helping you get the money benefits you need after being injured on the job. In addition to aggressive representation to help you fight for an initial workers' comp claim or appeal a denied claim, our attorneys apply nearly 30 years of trial experience to help you fight for full and fair money damages from the manufacturer held liable for your injuries.
We have experience representing injured workers in third-party lawsuits, including claims for industrial accidents and construction accidents resulting from:
Dangerous and defective industrial equipment

Crane collapses

due to manufacturing defects

Insufficient warning labels
Dangerous chemicals
Improper or insufficient training
Improper installation
Our experienced Pittsburgh workers compensation attorneys can investigate your workplace and the circumstances surrounding your injury to search for signs of a defective product or faulty piece of equipment. Then, we can help you understand your right to potentially hold one or more parties responsible for your injury as a worker, including a product manufacturer, your employer, a property owner, or a coworker or contractor.
Examples of Product Liability Cases
The attorneys at Dallas W. Hartman, P.C. have helped hundreds of people who have been injured due to the negligence of a product or another party. Almost any product can be defective. Some common products that have been known to be defective can include:
Heavy Equipment
Car Seats
Baby Equipment
Tools
Saws
Automobiles
Lawnmowers
Escalators
Elevators
Space Heaters
Electrical Devices
Work-Related Equipment
Treadmills
Gym Equipment
Toys
Medical Equipment
If you were hurt at work by a piece of unsafe equipment that has been altered, you may have a product liability claim. Product Liability cases are complex, so it is important that you contact an experienced lawyer like Dallas Hartman right away. An experienced attorney will review your case and investigate the product immediately before it can be lost, altered or destroyed.
Our Pittsburgh Product Liability Attorney Offers Free Consultations!
Call an experienced Pittsburgh product liability lawyer anytime toll-free at 1-800-777-4081 or contact an attorney at our law firm for a free case evaluation. There is no fee unless a financial recovery is made.