Pittsburgh Dog Bite Injury Attorney
Every year in the United States, more than five million people are injured by dogs. Over one million of those people require medical attention. Not every dog bite or attack is by a Pit Bull or a dog that is considered dangerous. Dogs from different breeds are responsible for serious injuries to people. In our office, our Pittsburgh personal injury attorney team has seen cases involving almost every breed of dog and can help with your case. If you or a loved one was attacked by someone's pet, contact our experienced Pittsburgh dog bite injury lawyers for a free consultation.
Types of Injuries Caused by Dog Bites
While many dog bites only cause minor injuries, when a bite breaks the skin it has the potential to cause serious, life-altering injuries, including:
Puncture wounds, lacerations, and abrasions

Eye, nose, and other face injuries

Torn ears

Infections

Broken bones

Nerve damage

Back or neck injuries

Amputations

Rabies
Is the Dog Owner Always Liable For Dog Bite Injuries?
In Pennsylvania and Ohio, dog owners are legally responsible for the behavior of their dogs. A pet owner must keep control of their dog at all times. If a dog was not on a leash, was not properly secured on the owner's premises, or if the dog owner knew that his or her dog was prone to violence yet didn't take the proper safety measures, they can be held financially liable. Sometimes, a pet sitter or "keeper" can also be held liable for the actions of a dog in their care.
In Pennsylvania, a dog's owner is liable for all damages when a person is severely injured, or for any severity of injury if a person is attacked by a dog already designated as dangerous. The state's dangerous dog law defines what is considered a dangerous dog and what rules owners of such dogs are required to follow.
Whether the attacking dog was known to be dangerous or not, a victim can take legal action to recover monetary damages for their losses. Contact our Pittsburgh dog bite injury attorneys today to discuss the specifics of your situation.
Dog Bite Injury Statistics
Over one-third of all homeowners' claims are dog bite claims.
When you are injured by someone else's dog, it is their homeowners' insurance that is responsible for taking care of your bills, pain and suffering, lost wages, scarring and in some cases property damage. Although many people are uncomfortable with the idea of suing a friend or family member, a person's homeowners insurance is there to protect you from the damages and injuries caused by their pets.
Not all injuries caused by dogs and other pets are bites. We have handled cases where serious injury was caused because a dog jumped up and knocked a person over, breaking several bones. If someone invites you onto their property, it is their responsibility to control their animals. Our Pittsburgh premises liability lawyers have represented dog bite injury victims with a premises liability claim. If you have suffered a broken bone, serious bruising, or another injury caused by a dog knocking you over or attacking you, contact our Pittsburgh animal bite lawyers today for a free consultation.
Over 50% of the time, a child is the victim.
Most children love dogs. Unfortunately, sometimes animals attack our children. If your child was bitten, you know that money will not pay for his or her tears — and you should not have to pay for the unexpected medical bills.
When a child is attacked by a dog, many times it is the face or the head that is bitten. Scars can be a serious, life-long reminder of a dog bite. They are more than just a physical injury, they can cause emotional scarring. Many children with scarring and disfigurement are often teased causing additional damage. Scars may require plastic surgery which may need to be delayed until after the scar matures, which can sometimes take years until the child is done growing.
WHAT YOU HAVE TO PROVE TO WIN YOUR DOG BITE INJURY CLAIM 
Pennsylvania follows a one-bite rule regarding dog attacks. This means that if the dog owner had no reason to believe their dog had a propensity for violence or would bite someone, they may not be held responsible for the first bite. However, after the first bite, this is no longer the case and the dog owner can be held liable. Additionally, the dog owner may still be liable even for the first bite if the victim can establish the dog owner was aware of the dog's violent nature. 
To recover compensation for a dog bite claim, you must prove the following facts:
The dog in question bit you and caused you to suffer injuries.

The dog's owner knew about the dog's aggressive or violent history. 

You were lawfully on the property where the dog bite occurred.

You did not provoke the dog. 
What Are Possible Defenses in Dog Bite Injury Claims?
If you make a claim against a dog owner for the bite you suffered, the dog owner may assert defenses, such as:
Lack of knowledge

– If the dog never exhibited violence or aggression or bit another person, this could be a valid defense to a dog bite injury claim. You would need strong evidence to the contrary to refute the defense.

Provocation

– It is a valid defense against a dog bite injury claim that the victim provoked the dog. If a person seemed menacing or threatening to the dog, the dog may have reacted instinctively. 

Trespassing

– If the victim was trespassing or otherwise not lawfully on the property where the bite occurred, the defendant might assert this defense. Dog owners are not generally accountable for injuries dogs inflict to people not lawfully on the property.
What Should You Do if a Dog Attacks You?
Seek medical attention immediately.

Get the contact information, and, if possible, the homeowners' insurance and dog license information from the dog's owner.

Get the contact information of any witnesses present.

Take photos of your injuries, and, if possible, the dog that attacked you.

Consult a Pittsburgh dog bite injury lawyer before signing anything or talking to any insurance companies.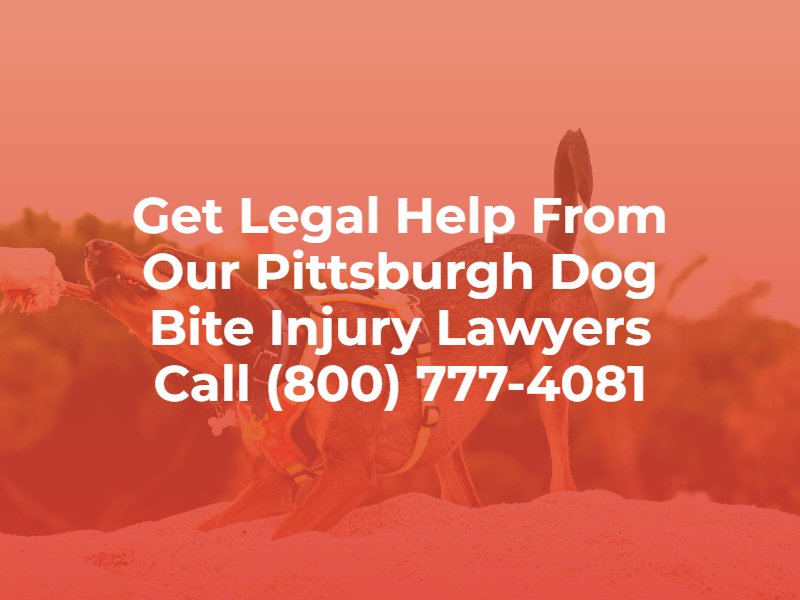 Compensation Available for Dog Bite Victims
If you or a loved one has been bitten by a dog, there may be several types of compensation available. Our dog bite lawyers will investigate what happened and want to secure the following damages:
Medical bills for hospitalizations, prescription medicines, and surgery

Lost wages, if your injuries caused you to miss time from work

Future medical expenses and/or lost earning capacity, if you are permanently disabled

Pain and suffering, both physical and mental
An experienced dog bite injury lawyer can give you a better idea of the potential value of your claim.
How Can a Pittsburgh Dog Bite Lawyer Help Your Injury Claim?
A lawyer can provide effective legal representation at all times during your claim so that you can focus on your recovery. Some of the key ways a dog Pittsburg dog bite injury attorney from Dallas W. Hartman, P.C. can help include:
Gathering evidence

– An experienced lawyer can identify evidence that can help establish liability and damages. We may review pictures and videos of your injuries and the attack, your medical records, bills, and receipts that show the damages you have paid for because of the dog bite. We may also interview witnesses who saw the dog bite you. We may ask them to discuss what they saw and help prepare a witness statement that could benefit your case.  We can also review previous reports involving the dog. 

Reviewing insurance policies

– We can review the dog owner's homeowner's or renter's insurance policy or any other insurance policy that may affect your claim. 

Determining and valuing your damages

– Your dog bite injury lawyer will get to know you and the struggles you have faced since the attack. We will identify all the ways you were harmed and determine a fair value for your claim. 

Filing an insurance claim

– Our lawyers have an in-depth understanding of Pennsylvania law and will leverage it to help prepare your claim with the dog owner's insurance company. We are also familiar with the tactics of insurance providers and can help anticipate possible challenges to your claim that we will try to counteract with strong evidence. 

Handling communications

– You do not need to give any recorded statements, negotiate for a settlement, or sign any papers. We will carefully handle communications with the insurance company while protecting your rights. 

Advising you of your legal rights and options

– We can answer any questions you have. If the insurance company refuses to make a reasonable settlement offer, we can discuss your options for recovering compensation, which might include taking your case to court. 
Contact an Experienced Pennsylvania Dog Bite Lawyer
If you or a loved one has suffered an injury caused by a dog bite or attack you should contact Dallas today for a free case evaluation. If you do not recover, there will be no fee. Any dog bite that has caused you to seek medical attention is a serious legal matter. Dallas W. Hartman, P.C. does not charge any fee to anyone in Pennsylvania or Ohio for a personal consultation about a dog bite injury claim.
No matter where you live in Pennsylvania or Ohio, we will be happy to meet you to discuss your injuries. We have handled dog bite cases in Pittsburgh, Erie, New Castle, Indiana, Butler, Altoona, Beaver Falls, Akron, Youngstown, Cleveland, Warren and many other areas across Ohio and Pennsylvania. If you or your child has been injured by an animal, it is in your best interest to call us at (800) 777-4081 or email us to speak with an experienced Pittsburgh dog bite lawyer today.