Pittsburgh PA Bicycle Accident Attorney
Hit by a car while riding your bike? Get Help From Dallas W. Hartman
We rarely think about our safety when we go for a bike ride or commuting to and from work. Most drivers don't think about our safety, either. Bicycles have little protection when a car runs a stop sign or red light or fails to watch out when entering or exiting a parking lot. Severe injury and even death are too often the results.
If you need immediate help and you feel like no one is on your side, our respected Pittsburgh personal injury attorneys at Dallas W. Hartman P.C., Attorneys at Law are ready to stand up for your right to the full and fair compensation you deserve for your bike accident. Contact our law offices in Pennsylvania or Ohio today for a free case evaluation. We have convenient offices located in Pittsburgh, New Castle, Hermitage, Butler and Erie in Pennsylvania and Youngstown in Ohio.
How a Bicycle Accident Lawyer in Pittsburgh Can Help
It is normal not to know exactly what to do to protect your rights after a bicycle accident. This is most likely the first time you've been hit by a car and need to pursue an injury claim. Hiring a lawyer is the best way forward. A lawyer will give you advice that you can trust, as he or she will work for you – not an insurance company. You can count on your lawyer to take care of the legal side of your case and protect your rights every step of the way.
At Dallas W. Hartman P.C., our bicycle accident lawyers have the experience and legal knowledge to handle even the most complicated bike accident cases in Pittsburgh. Hundreds of clients have relied upon us to represent them when going up against insurance companies and other powerful defendants. Our case results speak for themselves; we have the drive, compassion, resources and personnel to build strong accident and injury claims on behalf of our clients. We will make sure your family has what it needs to make it through this difficult time.
Pennsylvania Bicycle Accident Statistics
In 2020, there were a total of 22 bicycle-related fatalities. Here are the bicycle accident totals from the last 5 years of data:
Source: Penndot.gov
2020:
Total Accidents: 819
Deaths: 22
2019:
Total Accidents: 1,020
Deaths: 16
2018:
Total Accidents: 974
Deaths: 18
2017:
Total Accidents: 1,141
Deaths: 21
2016:
Total Accidents: 1,304
Deaths: 16
Other Interesting Statistics:
The age group of bicyclists with the highest number of injuries and fatalities were

young adults from 20-34.
In 2020, about 60% of Pennsylvania cyclists were injured within an intersection. The majority of bicycle-related fatalities occurred at non-intersections.
In 2020, 59% of bicycle injuries were reported during daylight hours with a total of 621 injuries and an additional 13 deaths.
What are some Safety Tips for Bike Riding in Pennsylvania?
Always wear a helmet when you ride.
Make sure to follow all rules regarding traffic signals and stop signs.
Be sure to look several cars ahead of you while in traffic. This is especially important in slow-moving traffic and around parked cars.
Never pass stopped or reduced speed vehicles on the right.
Common Bicycle Accident Injuries
Bicycle accidents can be devastating for cyclists, who are much more vulnerable to injury than motor vehicle drivers. Bikers do not have a seat belt, airbag or metal shell to protect them in accidents. In Pennsylvania, bicyclists over the age of 12 do not even have to wear a helmet by law. In a bicycle crash, a cyclist can sustain severe and life-changing injuries, such as:
Broken bones

Facial injuries

Lacerations

Road rash

Scarring and disfigurement

Crush injuries

Internal injuries or organ damage
Many of these injuries will require extensive medical treatment, including ongoing rehabilitation or therapy. The health care costs alone can exceed $1 million for a catastrophic injury, such as long-term brain damage or paralysis. The financial stress of a bicycle accident may not compare, however, to adjusting to life with a physical disability or the psychological trauma connected to the crash. If a loved one lost their life after a fatal bicycle accident, contact our Pittsburgh wrongful death lawyers for expert legal representation.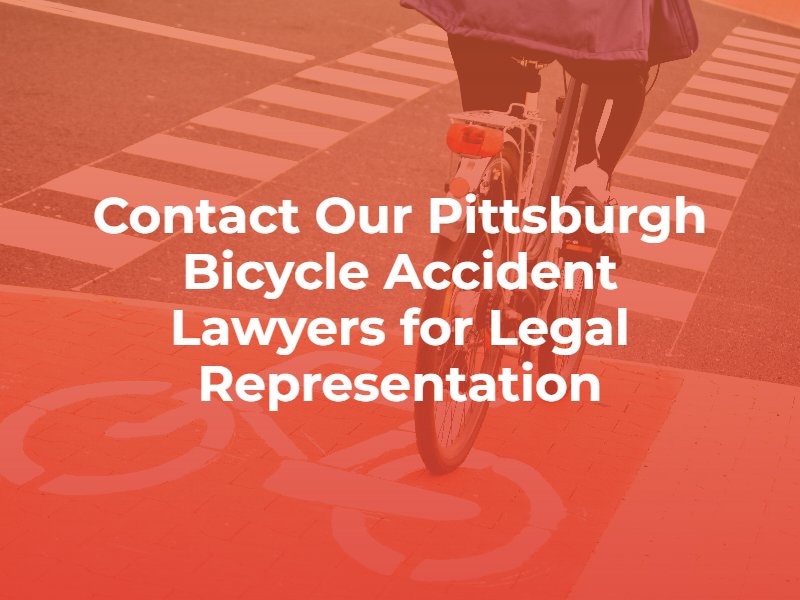 Who Pays for a Bicycle Accident in Pennsylvania?
Pennsylvania is relatively unique in that it uses a no-fault law. It is one of only 12 states to do so. Under this insurance system, drivers that are involved in accidents seek benefits from their own car insurance providers, regardless of who caused the crash. However, the no-fault law does not apply to bicycle accidents. Instead, the driver who is at fault for the accident will pay for the bicyclist's injuries through his or her car insurance policy.
As an injured cyclist in Pittsburgh, you or your lawyer will need to prove that the driver who struck you is more likely than not to blame for the crash. You will need clear and convincing evidence to show that the driver was violating a traffic law or otherwise at fault for the accident, such as proof of distracted driving or driving under the influence. An bicycle accident attorney in Pittsburgh can help you preserve and collect evidence to support your bicycle accident claim.
Who is to blame for your bicycle accident if you were riding on the sidewalk?
The law in both Pennsylvania and Ohio follows a concept known as comparative negligence (modified comparative fault or, simply, the 51% rule). Basically, as long as the court decides that you were 50 percent or less responsible for your pedestrian or bicycle accident, you can still recover damages.
Even if you were riding your bike on the sidewalk or the wrong side of the road, an experienced Pittsburgh personal injury attorney at our firm can help you get financial compensation for your injuries. Contact us today to learn more in a free consultation with a knowledgeable Pittsburgh bicycle accident lawyer.
What if I'm involved in a Hit-and-Run bicycle accident?
In some cases of hit-and-run accidents, your injuries may be covered by your own insurance policy. It is important you have enough uninsured and uninsured motorist coverage to protect you, in case you are hit by a car that leaves the scene of the accident.
We have the proven skill and experience to deal with your insurance company and reluctant insurance adjusters to make sure they treat you fairly and live up to their legal obligations. In many cases, you must get an attorney involved to make sure your own company pays you what you deserve.
For more information, contact our Pittsburgh hit-and-run accident lawyers who specialize in Hit & Run Accident Cases.
Recoverable Damages in a Bicycle Accident Case in Pittsburgh, PA
If your lawyer succeeds in holding a driver or third party responsible for your bicycle accident in Pittsburgh, you and your family could receive a financial award to pay for many losses connected to the crash. A successful settlement or judgment award can repay you for many past and future expenses, as well as intangible losses connected to the traumatic accident. Recoverable damages often include:
Medical bills

Bicycle repairs or replacement

Lost wages

Lost future capacity to earn

Disability 

Pain and suffering

Emotional and mental trauma

Diminished enjoyment of life

Punitive damages, in some cases
You should always discuss the value of your bicycle accident case with an attorney before accepting a settlement from an insurance company. Insurance providers are notorious for devaluing claims and trying to take advantage of injured accident victims to avoid large payouts. An attorney can help you demand fair compensation for the full value of your case using aggressive legal strategies.

Contact Our Bicycle Accident Lawyers in Pennsylvania today!
Regardless of the severity of your injuries or the complexity of your loss, our firm has a team of experienced attorneys at convenient locations throughout Pennsylvania and Ohio to serve you. Reach out to a Pittsburgh bicycle accident lawyer at Dallas W. Hartman P.C. for a free case consultation. We are happy to come to your home or hospital to discuss your case. Call us today! 412-262-2888