Pittsburgh PA Car Accident Attorney
Motor Vehicle Accident Lawyers in Pittsburgh
A car accident can turn your life upside down. Nobody expects to get seriously injured in an auto accident. In a flash, a negligent driver can run a red light, swerve into your path or pull out in front of you. A car accident can happen in an instant and change your life forever.
Choosing the right attorney can mean the difference between full and fair compensation for your injuries and no compensation at all.  Dallas Hartman and his team of experienced attorneys have been helping the injured people of PA and OH for over twenty-five years.  Insurance companies and defense attorneys know that we are not afraid to take our cases to trial. Our results speak for themselves.
If you or a loved one has been injured in a motor vehicle accident, the lawyers at our Pennsylvania and Ohio personal injury law firm can help you recover financial compensation for your injuries. Talk to our Pittsburgh personal injury lawyer team at Dallas W. Hartman, P.C., with offices also located in New Castle, Hermitage, Butler and Erie, Pennsylvania.
Pittsburgh & Pennsylvania Car Accident Statistics
source: Penndot.gov
Total Motor Vehicle Accidents in Pennsylvania
2015: 127,127
2014: 121,317
2013: 124,149
2012: 124,092
2011: 125,395
2010: 121,312
2009: 121,242
2008: 125,327
2007: 130,675
2006: 128,342
Total Car Accident Deaths in Pennsylvania
2015: 1,200
2014: 1,195
2013: 1,208
2012: 1,310
2011: 1,286
2010: 1,324
2009: 1,256
2008: 1,468
2007: 1,491
2006: 1,525
In 2015, the top 5 counties in Pennsylvania with the highest number of vehicle crashes were:
Allegheny County – includes Pittsburgh (10.0%)
Philadelphia County (9.1%)
Montgomery County (6.7%)
Bucks County (4.7%)
Lancaster County (4.4%)
Allegheny County Specific Motor Vehicle Accident Statistics from 2015
In Allegheny County, where Pittsburgh is located, we saw the following numbers in 2015:
12,665 Total Crashes
49 Fatal Crashes
5,354 Injury Crashes
7,262 Property Damage Only (PDO) Accidents
The chart below shows a breakdown of motor vehicle accident fatalities in 2016 by sate, including the statistics from Pennsylvania and Ohio.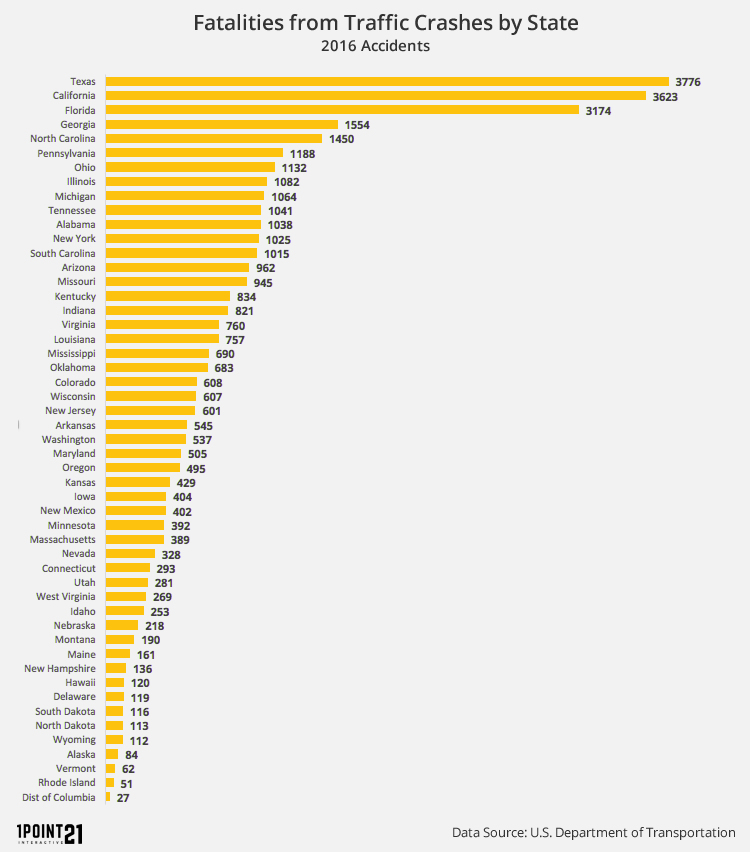 The U.S. Department of transportation recorded that Pennsylvania had a total of 1,188 fatalities on the road in 2016. They are ranked 6th highest in the nation. For Ohio, they had 1,132 motor vehicle deaths during that year, which ranked them #7 in the nation. 
First, Get Medical Treatment, Then Talk to an Experienced Car Accident Lawyer
After suffering an injury in a car accident, you will be faced with many decisions about your medical care and compensation for lost earnings and pain and suffering. Don't talk to an insurance company representative until you have the opportunity to understand your rights. Our firm offers a free consultation to assess the circumstances of your car accident case. We will explain your options and help you understand the process of how to collect the money damages you are entitled to. If you retain us as your legal counsel, you will have an experienced, knowledgeable team on your side, handling everything and fighting for maximum money damages.
Negligence with Car Accidents
Fault or negligence issues can be complicated, and an experienced personal injury attorney will look to a number of sources, such as police reports, state traffic laws, and witnesses, to help you determine who was at fault for your accident.  13,000 people have been injured or killed since 1990 in crashes caused by aggressive driving alone.  Other causes of accidents where another driver may be at fault include but are not limited to reckless driving, speeding, failure to obey traffic laws, and weather conditions.
A person who negligently operates a vehicle may be required to pay for any damages, either to a person or property, caused by his or her negligence. Generally, people who operate automobiles must exercise "reasonable care under the circumstances." A failure to use reasonable care is considered negligence. The injured party, known as the plaintiff in a personal injury case, is required to prove that the defendant was negligent, that the negligence was a proximate cause of the accident, and that the accident caused the plaintiff's injuries. If you have been involved in a car accident, it is important that you seek legal counsel from an experienced personal injury attorney.
Primary Causes for Motor Vehicle Accidents in PA and OH
There are many reasons that people get into accidents. It's important to identify some of the top factors that contribute to car wrecks in order to reduce the frequency of accidents, generate awareness, and most importantly – save lives. Some of the top factors for car accidents are as following:
#1. Distracted Driving
#2. Driving while intoxicated
#3. Speeding or Reckless Driving
#4. Bad Weather
#5. Running Red Lights or Stop Signs
#6. Night Driving
#7. Improper Turns or Wrong Way on Roads
#8. Teen or Inexperienced Drivers
#9. Car defects or Tire Blowouts
#10. Work on Construction Zones
What are the Common Types of Vehicle Accidents?
We have extensive experience representing clients who have suffered serious injury, or have lost a loved one in any type of car accident on Pennsylvania or Ohio roads, including:
Head-on collisions, T-bone accidents, sideswipe accidents
Accidents in construction zones and on defective roads
Different Types of Injuries from Car Accidents
We see hundreds of car accident injury cases a year.  Common injuries that result from motor vehicle accidents include whiplash, bone fractures and breaks, dislocations, neck and spinal cord injuries, herniated disks, disfigurement, brain injuries, and paralysis. Some of these injuries may even result in death. If you or a loved one has been injured as you need to recover as fully as possible.  Our experienced car accident attorneys can help you with all of your legal needs so you can concentrate on healing.
Insurance Companies
Insurance companies are not on your side, as some may advertise.  The insurance companies are interested in limiting the amount of your financial recovery. They will make the process as difficult as possible.  Our personal injury lawyers are very experienced negotiating with insurance companies and the insurance adjusters know it.  We have handled hundreds of accident cases and are committed to achieving the best possible recovery for every client.
No Attorney Fees Unless You Recover Money Damages!
If you or a loved one has been injured in a car accident, please call a personal injury attorney who will fight for the compensation you deserve for your car crash injuries. Contact Dallas Hartman today for a free evaluation of your case.  We help injured people across Pennsylvania and Ohio.
From our offices in New Castle, Hermitage, Butler and Erie, Pennsylvania, we represent clients in communities throughout the Greater Northern Pittsburgh metro region and throughout Pennsylvania and Ohio.If you cannot come to our office, we are happy to come to your home or hospital to discuss your case. Call us in Pittsburgh at (412) 262-2888 or toll free at 1-800-777-4081 or contact us online to arrange a free consultation with an experienced Pittsburgh car accidents lawyer today.
"When our family of four was injured in a car accident, we had no idea what to do. We were traveling back and forth to Pittsburgh to visit my son in the hospital, while my wife, daughter and I all were recovering from injuries of our own. I called Dallas Hartman's office and spoke with Doug Olcott. He assured us that he would take care of everything and all we had to do was focus on healing. We were thrilled with the personal service throughout the case. It was a long road, but we are thrilled with our settlement. Our settlement has allowed us to get the medical care that all of us needed and our disabled son will be taken care of."
Anonymous