Pittsburgh Car Accident Attorney
Motor Vehicle Accident Lawyers in Pittsburgh
Auto accidents range from routine insurance claims to complicated multi-vehicle collisions with catastrophic injuries and fatalities. At Dallas W. Hartman P.C., we're prepared for it all. We help Pittsburgh car accident victims recover for their medical bills, property damage, pain and suffering, lost wages, and other damages.
A car wreck can turn your life upside down. Nobody expects to get seriously injured in an auto accident. In a flash, a negligent driver can run a red light, swerve into your path or pull out in front of you. A car collision can happen in an instant and change your life forever. Contact the experienced Pittsburgh motor vehicle accident lawyer team about your case today!
Why Choose Our Attorneys?
Choosing the right attorney can mean the difference between full and fair compensation for your injuries and no compensation at all.  We know the laws and understand the best courses of action for our clients to take. Dallas Hartman and the team of experienced attorneys have been helping the injured people of PA and OH for over twenty-five years. They will go up against insurance companies, other drivers, major corporations, and others on your behalf, fighting for the compensation your injuries deserve. We are your comprehensive source for car accident recovery assistance..  Insurance companies and defense attorneys know that we are not afraid to take our cases to trial. Our results speak for themselves.
If you or a loved one has been injured in a motor vehicle accident, the lawyers at our Pennsylvania and Ohio personal injury law firm can help you recover financial compensation for your injuries. Talk to our Pittsburgh personal injury lawyer team at Dallas W. Hartman, P.C., with offices also located in New Castle, Hermitage, Butler and Erie, Pennsylvania.
Do I Have an Accident Case?
Having a valid car accident claim depends on many factors such as:
Evidence of the accident and the accident damages
The severity of your injuries
Who was at fault
The time needed for surgery and/or time away from job
Insurance Coverage
The best way to find out if you have a case is to immediately consult with an accident lawyer within a certain time period. Be sure to take a bit of time to gather as much strong evidence, documentation and information as you possibly can. 
Dealing with Insurance Companies
Insurance companies are not on your side, as some may advertise. They are interested in limiting the amount of your financial recovery. The insurance agents or representatives will make the process as difficult as possible. Our personal injury lawyers are very experienced negotiating with insurance companies and the insurance adjusters know it.  We have handled hundreds of accident cases and are committed to achieving the best possible recovery for every client.
No Attorney Fees Unless You Recover Money Damages!
You've recently been in a motor vehicle accident. You've sustained serious injuries, such as broken bones or a concussion. Your vehicle is completely totaled, and you believe the other driver was at fault. The other driver won't admit fault, however, and conversations with your insurance company aren't going well. Since Pennsylvania is a no-fault state, it's difficult to receive coverage from the other driver's insurer. Meanwhile, medical bills are racking up and you've missed time at work during recovery. Where do you go from here? To Dallas W. Hartman P.C.
Car Accident Resources:
Pittsburgh & Pennsylvania Car Accident Statistics
The Pennsylvania Department of Transportation publishes a report each year containing the most recent motor vehicle accident data for the state. PennDOT and the public can use this information to gain a better understanding of why car wrecks occur and how to prevent them in the future. At Dallas W. Hartman P.C., we know a car crash is much more personal than figures in a graph. However, we also know that tracking crash data is one of the best ways to spread awareness and reduce the number of accidents. Here's the latest data in Pennsylvania and Pittsburgh:
There were 128,188 reported traffic accidents in PA in 2017. This is an increase from 129,395 total accidents in Pennsylvania in 2016. The number of car accidents in PA in the last decade has fluctuated between a low of 121,242 in 2009 to a high of 130,675 in 2007.
In 2017, 1,137 people died in motor vehicle crashes in the state. This was a slight decrease from 1,888 deaths in 2016. Looking at the graph, one can track an overall decrease in the number of vehicle accident deaths from 2006 to today. While year-to-year fluctuations have occurred, the general trend has gone downward.
On average in Pennsylvania, 355 accidents occurred per day in 2016. Three people sustained fatal injuries per day, and 227 sustained injuries. Based on the state's 2016 population, one out of every 43 people was in a traffic accident, and one out of every 154 sustained a related injury.
The most common type of crash in PA was a vehicle hitting a fixed object, such as a tree or guardrail. These accidents caused the most fatalities, at 35.4%. The second most common type were angle crashes, followed by rear-end collisions and sideswipe accidents. Pedestrian crashes occurred less frequently, yet accounted for the third highest number of deaths.
Around 85-90% of all traffic accidents involve driver error as a contributing factor. Driver errors may include driver distraction, inexperience, drowsy driving, drunken driving, or failure to obey roadway rules. Speeding and alcohol use were the greatest contributors to fatal crashes in Pennsylvania, 2017.
source: Penndot.gov
Total Motor Vehicle Accidents in Pennsylvania
2017: 128,188
2016: 129,395
2015: 127,127
2014: 121,317
2013: 124,149
2012: 124,092
2011: 125,395
2010: 121,312
2009: 121,242
2008: 125,327
2007: 130,675
2006: 128,342
Total Car Accident Deaths in Pennsylvania
2017: 1,137
2016: 1,188
2015: 1,200
2014: 1,195
2013: 1,208
2012: 1,310
2011: 1,286
2010: 1,324
2009: 1,256
2008: 1,468
2007: 1,491
2006: 1,525
Allegheny County, where Pittsburgh lies, accounted for the most reported traffic accidents in 2017, with 9.8%, followed by Philadelphia County with 8.7% and Montgomery County with 7%. There were 12,470 total accidents in Allegheny County in 2017. Sixty-two of these crashes were fatal, while 5,324 caused injuries.
The odds of getting into a crash in Pittsburgh are relatively high. Keep an attorney's number in your phone in case this emergency situation happens to you.
Allegheny County – includes Pittsburgh (9.7%)
Philadelphia County (8.7%)
Montgomery County (3.7%)
Bucks County (4.8%)
Lancaster County (4.5%)
Allegheny County Specific Motor Vehicle Accident Statistics from 2017
In Allegheny County, where Pittsburgh is located, we saw the following numbers in 2016:
12,470 Total Crashes
62 Fatal Crashes
5,324 Injury Crashes
7,084 Property Damage Only (PDO) Accidents
Where are the Pittsburgh Highest Collision Locations?
Knowing which roads, highways, and intersections see the highest numbers of accidents in Pittsburg can help you avoid high-crash locations. According to data from PennDOT in the form of a crash map, the major corridors in Pittsburgh see the highest number of crashes. Major corridors can have multiple crashes at nearly every intersection. Clusters of accidents exist in Uptown Allegheny County, as well as between North Shore and East Allegheny. The Mellon Square area sees a large number of collisions, as does the Liberty Bridge.
PennDOT calls more than 300 roads in Pennsylvania "dangerous" based on high numbers of serious crashes and the number of people hurt and killed. The most dangerous roads in Allegheny County are East Carson Street (northbound), with 374 crashes from 2007-2011, Penn Avenue/Washington Boulevard (NB) with 342 crashes, Washington Boulevard/Penn Avenue (SB) with 279, William Penn Highway (EB) with 187, and West Carson Street (NB) with 155. Drive on these roads with particular care.
The chart below shows a breakdown of motor vehicle accident fatalities in 2016 by sate, including the statistics from Pennsylvania and Ohio.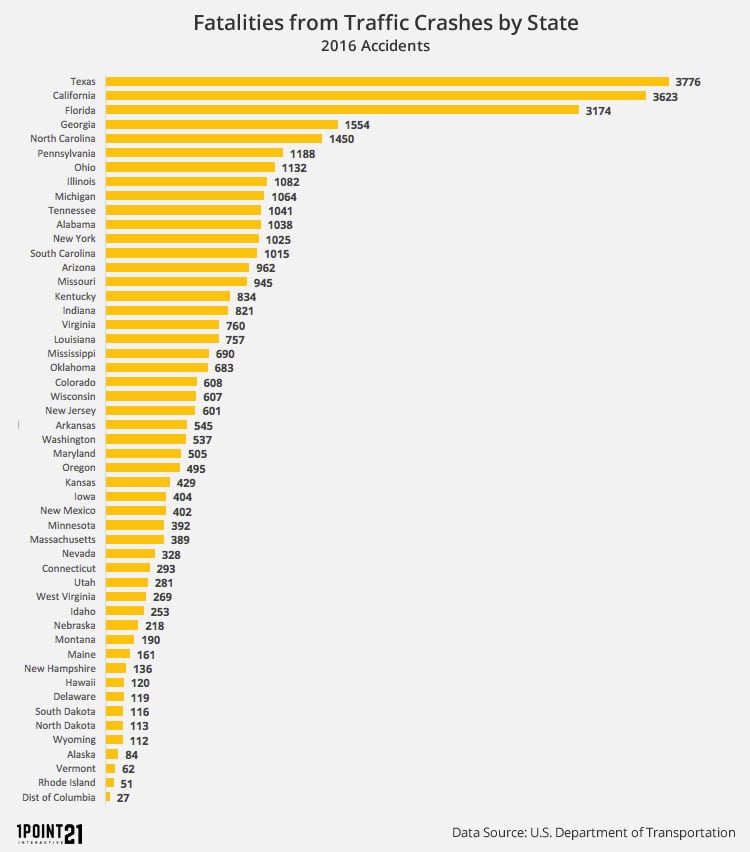 The U.S. Department of transportation recorded that Pennsylvania had a total of 1,188 fatalities on the road in 2016. They are ranked 6th highest in the nation. For Ohio, they had 1,132 motor vehicle deaths during that year, which ranked them #7 in the nation. 
Pennsylvania Police Traffic Enforcement Improvements
A lot of serious and fatal accidents in Pennsylvania occur because of drivers breaking the law. Drivers breaking speed limits, driving while under the influence of drugs or alcohol, running red lights, and otherwise disobeying traffic laws cause collisions every day. Many accident victims push for improvements in traffic law enforcement throughout the state, believing that more accountability for drivers could reduce the number of accidents.
In May 2016, Governor Tom Wolf announced that PennDOT was distributing $5.5 million to improve Automated Red Light Enforcement (ARLE) in 18 municipalities. Allegheny County received $295,000 to replace traffic signals at dangerous intersections – specifically, the intersection of Centre Avenue and Bigelow Boulevard. Other enhancements, such as key process improvements, implementation of newer technologies, and infrastructure repairs are also underway.
First, Get Medical Treatment, Then Talk to an Experienced Car Accident Lawyer
After suffering an injury in a car collision, you will be faced with many decisions about your medical care and compensation for lost earnings and pain and suffering. Don't talk to an insurance company representative until you have the opportunity to understand your rights. Our firm offers a free consultation to assess the circumstances of your car wreck case. We will explain your options and help you understand the process of how to collect the money damages you are entitled to. If you retain us as your legal counsel, you will have an experienced, knowledgeable team on your side, handling everything and fighting for maximum money damages.
What is Negligence with Car Accidents?
Fault or negligence issues can be complicated, and an experienced personal injury attorney will look to a number of sources, such as police reports, state traffic laws, and witnesses, to help you determine who was at fault for your accident.  13,000 people have been injured or killed since 1990 in crashes caused by aggressive driving alone.  Other causes of accidents where another driver may be at fault include but are not limited to reckless driving, speeding, failure to obey traffic laws, and weather conditions.
A person who negligently operates a vehicle may be required to pay for any damages, either to a person or property, caused by his or her negligence. Generally, people who operate automobiles must exercise "reasonable care under the circumstances." A failure to use reasonable care is considered negligence. The injured party, known as the plaintiff in a personal injury case, is required to prove that the defendant was negligent, that the negligence was a proximate cause of the accident, and that the accident caused the plaintiff's injuries. If you have been involved in a car accident, it is important that you seek legal counsel from an experienced personal injury attorney.
What are the Most Common Causes for Motor Vehicle Accidents in PA and OH?
While almost anything can cause an accident, there are certain factors that contribute to crashes in Pennsylvania and Ohio more than others. In our years of experience representing car accident victims, we've learned that a handful of factors cause the majority of serious collisions, locally and around the country. The three most common factors are as follows:
Distracted driving. Distracted driving killed 3,477 people nationwide in 2015. The fatality rates have increased in recent years due to cell phone and handheld electronic device use behind the wheel. It is illegal to text on a handheld cell phone while driving in Pennsylvania.
Speeding. Going above posted speed limits, or driving too fast for conditions, makes it almost impossible for drivers to control their vehicles. They may not be able to stop in time to avoid striking another vehicle, object, or pedestrian. They may take a turn too fast and rollover, or lose control and crash into other cars.
Drunk driving. From 2003 to 2012, 4,663 people in Pennsylvania died in alcohol-related motor vehicle crashes. In PA, 1.8% of people report driving after drinking too much in the last 30 days. The age group most at risk of fatal accidents involving drunk drivers is 21- to 34-year-olds.
Reckless driving, poor weather conditions, red-light running, night driving, teenage drivers, vehicle part defects, unsafe lane changes, and drivers breaking roadway rules are other frequent contributing factors in Pennsylvania and Pittsburgh car accidents. The best ways to protect yourself from accidents are to always obey the law, never drive while drunk or distracted, and to practice defensive driving techniques.
What are the Common Types of Vehicle Accidents?
We have extensive experience representing clients who have suffered serious injury, or have lost a loved one in any type of vehicle accident on Pennsylvania or Ohio roads, including:
Head-on collisions, T-bone accidents, sideswipe accidents
Accidents in construction zones and on defective roads
Different Types of Injuries from Car Accidents
We see hundreds of motor vehicle accident injury cases a year. Common injuries that result from motor vehicle accidents include whiplash, bone fractures and breaks, dislocations, neck and spinal cord injuries, herniated disks, disfigurement, brain injuries, and paralysis. Some of these injuries may even result in death. If you or a loved one has been injured as you need to recover as fully as possible. Our experienced car accident attorneys can help you with all of your legal needs so you can concentrate on healing.
Dallas W. Hartman and his team of experienced car accident attorneys can walk you through where to receive medical care, how to file a claim with your insurance company or a third-party insurer, and how to fight for just and fair compensation for your damages. Our firm has the big company resources to see you through even the most complex claims, along with small-firm personalized attention. We can make you feel immediately calmer and more confident after a disastrous wreck in Pittsburgh or the surrounding areas.
From our offices in New Castle, Hermitage, Butler and Erie, Pennsylvania, we represent clients in communities throughout the Greater Northern Pittsburgh metro region and throughout Pennsylvania and Ohio.If you cannot come to our office, we are happy to come to your home or hospital to discuss your case.
Call us in Pittsburgh at (412) 262-2888 or toll free at 1-800-777-4081 or contact us online to arrange a free consultation with an experienced Pittsburgh accident lawyer today.
Recent Client Testimonial:
"When our family of four was injured in a car accident, we had no idea what to do. We were traveling back and forth to Pittsburgh to visit my son in the hospital, while my wife, daughter and I all were recovering from injuries of our own. I called Dallas Hartman's office and spoke with Doug Olcott. He assured us that he would take care of everything and all we had to do was focus on healing. We were thrilled with the personal service throughout the case. It was a long road, but we are thrilled with our settlement. Our settlement has allowed us to get the medical care that all of us needed and our disabled son will be taken care of."
Anonymous