Pittsburgh Pedestrian Accident Attorney
Pedestrians are extremely vulnerable when involved in collisions with motor vehicles. As the person on foot doesn't typically have any form of protection, the results can be severe, and even fatal. Our team of Pittsburgh car accident lawyers have seen the aftermath of pedestrian and car collisions resulting in large medical bills, not to mention pain & suffering.
If you were involved in a pedestrian accident and were injured due to a motorist's negligence, contact our dedicated Pittsburgh pedestrian accident attorneys at Dallas W. Hartman P.C., Attorneys at Law to stand up for your right to the full and fair compensation you deserve for your injuries. Contact our law offices in Pennsylvania today for a free case evaluation!
What steps should I take if I am hit as a pedestrian?
Move out of the street or out of the way of any other vehicles or hazards on the road.
Assess for any injuries or damage from the accidents.
Ensure that the vehicle operator is still at the scene. If they fled, trying to snap a photo of their license plate or write down the numbers from memory.
Contact the Police and wait for them to arrive.
Get information from the other driver, seek out witnesses and recall as much of the accident scene as possible. Take photos of the scene.
Seek Medical Attention. Even if you are unsure about the severity of your injuries, it's recommended you seek a medical examination.
Contact your insurance company to start a claim.
Consult with an experienced Pittsburgh pedestrian accident lawyer.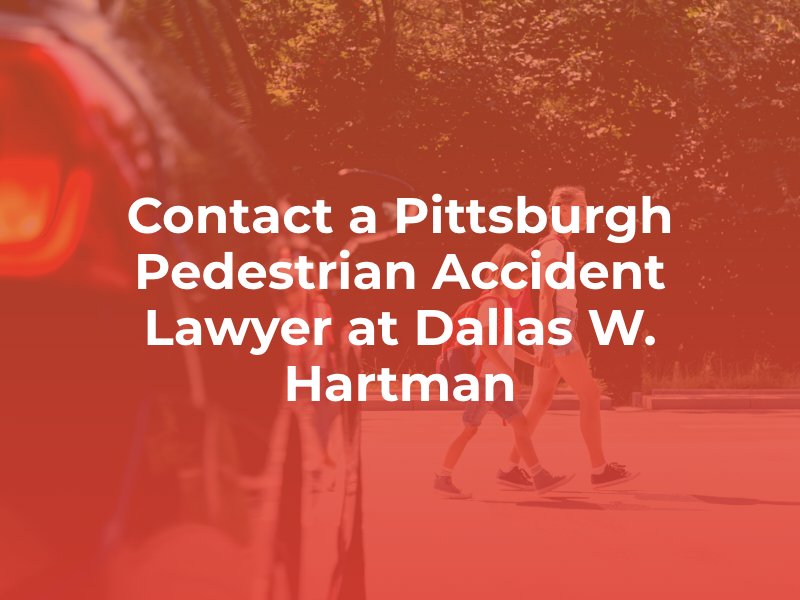 What happens if the driver flees the scene of the accident?
In some cases of hit-and-run accidents, your injuries may be covered by your own insurance policy. Currently, uninsured or underinsured motorist coverage is optional in the state of Pennsylvania, but it's extremely helpful in situations like a hit-and-run. This would also be the case with bicycle accidents in Pittsburgh. The team of Pittsburgh hit and run accident attorneys at Dallas W. Hartman P.C. have a lot of experience dealing with insurance companies and reluctant insurance adjusters and can help to make sure they treat you fairly and live up to their legal obligations. Find out how a Pittsburgh pedestrian accident lawyer can help your case if a driver struck you as a pedestrian.
What are the Most Common Causes of Pedestrian Accidents?
Rolling Stops, or failing to stop at an intersection or stop sign.
Distracted Driving (texting, eating, etc.)
Speeding
Inexperienced Driver
Bad road conditions (defective lights, debris, and more.)
Pedestrian Negligence (jaywalking, a crossing road without looking)
Pennsylvania Pedestrian Accident Statistics
Source: Penndot.gov
Total Pedestrian Accidents in Pennsylvania from 2011-2015:
2015:
Total Accidents: 4,001
Fatalities: 153
2014:
Total Accidents: 4,001
Fatalities: 166
2013:
Total Accidents: 4,375
Fatalities: 151
2012:
Total Accidents: 4,538
Fatalities: 168
2011:
Total Accidents: 4,515
Fatalities: 149
Based upon the data of pedestrian deaths from 2015, of the 153 victims, 30.1% of the victims were walking, running or playing by the street. 39.2% of them were entering the crossing or crosswalk. 5.9% of the people were just standing in one place. And any other situation is made up of the remaining 24.8%.
Pedestrian Accident Attorney in Pittsburgh – Get a Free Consultation!
Regardless of the severity of your injuries or the complexity of your loss, our team of experienced Pittsburgh personal injury lawyers has attorneys at convenient locations throughout Pennsylvania and Ohio to serve you. We are happy to come to your home or hospital to discuss your case. Contact us in Pittsburgh or our other offices in Pennsylvania or Ohio today! (412) 262-2888