Pittsburgh Defective Car Part Attorney
When you buy a car, either new or used, every component is required to go through rigorous product testing to ensure the safety of the driver, passengers and other people on the road. If a gas tank explodes because of a defect or a seat belt fails, the auto manufacturer as well as the supplier of the defective part may be held liable for damages.
How a Pittsburgh Auto Defect Attorney Can Help Your Case
Investigating and preparing a winning auto defect litigation case requires experience, knowledge and financial resources that many personal injury firms can't offer. Every auto defect lawsuit is really a case-within-a-case, as your attorney will first have to fight to determine the percentage of damages the part manufacturer should be held liable for. Under Pennsylvania and Ohio laws, you can claim damages up to a comparable amount of liability determined by the courts.
After the percentage of liability has been set, your auto defect lawyer in Pittsburgh will then have to aggressively fight to recover full and fair money damages in a negotiated settlement or a jury verdict. These types of cases require a thorough understanding of complex technical issues and often take a year or more to settle or go to trial. The attorneys at Dallas W. Hartman P.C. have the financial and professional resources to handle the cost of investigating and preparing your case.
Why Choose Dallas W. Hartman P.C. For Your Injury Case
If you were injured in a car accident in Pittsburgh and think a defective auto component contributed to the accident and your injuries, talk to an experienced Pittsburgh personal injury lawyer at Dallas W. Hartman P.C.
For nearly 30 years, our team of attorneys have been standing up for plaintiffs injured because of defective auto parts and other consumer products. Our team of skilled defective product attorneys in Pittsburgh understand Pennsylvania auto recall laws and can represent your injury case after an accident.
Common Types of Auto Defects Which Cause Serious Injury
Call our defective auto part lawyers in Pittsburgh if you were injured in an accident that involved a failed auto component or safety feature such as:
Brake failure
Gas tank explosion
Seat belt or airbag failure
Seatback failure
Roof crush or door frame crush
Tire blowout
Engine fire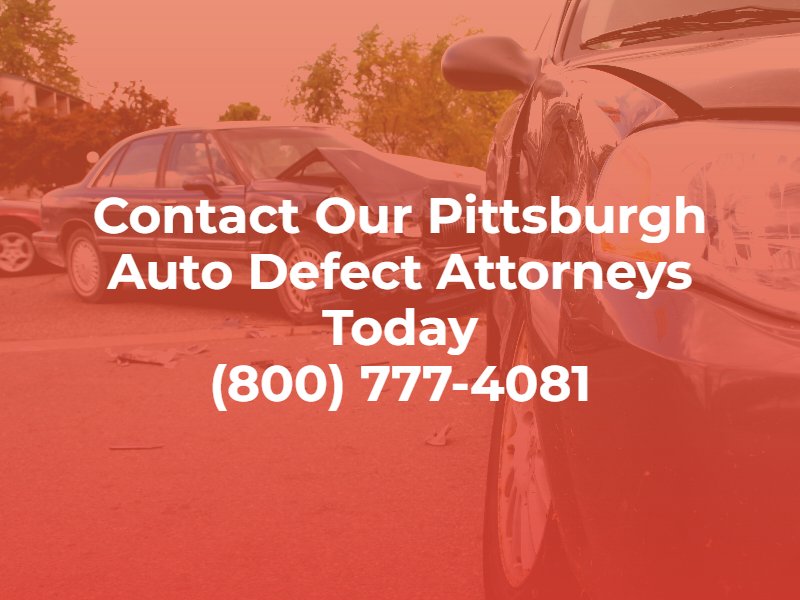 Get a Free Consultation with Our Pittsburgh Auto Defect Attorneys
Let us put our experience to work helping you recover the justice you deserve. From our offices in Pittsburgh, New Castle, Hermitage, Butler and Erie, our experienced Pittsburgh auto defect attorneys represent plaintiffs in communities throughout Pennsylvania and Ohio.
Contact us to arrange a consultation with an experienced Pittsburgh defective auto products lawyer today.