Pittsburgh IVC Filters Injury Lawyer
When the arms of a retrievable IVC (inferior vena cava) filter fail to properly work, serious harm or death may result for patients.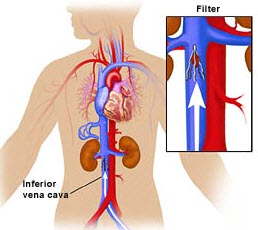 Retrievable IVC filters were designed for patients who suffer from blood clots in their lungs, otherwise known as pulmonary embolism, and who are unable to take anticoagulant (anti-blood clot) medication. The device acts as a "grabber" that gathers clotting blood and prevents it from entering the patient's lungs.
When a doctor diagnoses that a patient is unable to use anticoagulant medication, the patient has the retrievable IVC filter placed into the inferior vena cava. The inferior vena cava is the principal vein that pumps to the heart from a person's lower extremities. When physicians deem the risk of a blood clots to be likely inevitable, they will often use a retrievable IVC filter to protect the patient.
Retrievable IVC filters are not a new idea and have been in use since the late seventies. If the first few years IVC filters were available to surgeons, on a few thousand procedures were done. Today, nearly two hundred thousand are done each year in the United States alone.
IVC Filters Can Cause Serious Injury or Death
It has recently come to light that retrievable IVC filters can cause serious injury and have killed patients in some cases. In August – September 2010, United States Food and Drug Administration (FDA) received at least 921 reports concerning the adverse effects of retrievable IVC filters. Soon after, the FDA delivered a medical device safety communication that expressed its concern that IVC filters stay inside of patients longer than they were originally designed, leading to 328 reports of device migration, 146 reports of device component detachment, 70 reports of punctures and perforations, and 56 reports of IVC filter splintering. When the arms, or "grabbers," of an IVC filter break away from the main part of the device, they have the tendency to drift into other parts of a patients' body and may cause serious lacerations to major blood vessels and vital organs. Severe injuries that then require abrupt, often invasive intervening surgeries will occur. If the problem is not discovered in time, patient death may be imminent.
Shortly after the FDA issued its medical device safety communication warning about IVC filters, the Archives of Internal Medicine published a detailed article wherein three leading thrombosis expert physicians wrote that after surveying more than two hundred retrievable IVC patients, more than a quarter of them did not necessitate the implant and that only a little more than half were in dire need of IVC filters. The three physicians also found that there was a significant connection between patients being implanted with IVC filters and patient death.
C.R. Bard Filters Listed as Most Problematic
Researchers from across the country have analyzed several different IVC filter manufacturers and found two types of filters, both made by C.R. Bard, proved to be problematic: the Bard Recovery IVC filter, FDA-approved in 2002, and the Bard G2 IVC filter, FDA-approved in 2005. In another article published in the Archives of Internal Medicine, medical experts found that the two Bard devices showed high rates of fracture: the Bard Recover IVC filters fractured a quarter of the time, and the Bard G2 IVC filter fractured 12% of the time. It was believed at the time that approximately 7000 of the estimated 62,000 patients who were implanted with Bard G2 IVC filters were at risk, and that tens of thousands of Bard Recover IVC filter recipients were also at risk. Those numbers are believed to have exponentially grown since 2010. In notes accompanying the second Archives of Internal Medicine article, it was noted that both of the Bard IVC recovery devices were sanctioned through the FDA's 510(k) "pre-market approval process." This allowed Bard to manufacture its two faulty IVC filters because they were developed in similar ways to other, already FDA-approved IVC filter devices without being the subject of clinical human trials.
In 2012, at least three class-action lawsuits were filed in Pennsylvania and California state courts against Bard for its malfunctioning IVC filter devices. In addition, a class-action lawsuit was later filed in Florida state court and was eventually moved to federal court where it continues.
In 2015, NBC News ran a two-part series about the adverse effects of Bard's IVC filters. The report detailed the issues surrounding the manufacturing and approval process of the filters and showed that Bard was aware that its filters could be harmful to patients, but chose to market the product anyway. In September of 2015, a woman from New York filed a lawsuit against Bard after tests revealed parts of her IVC filter had broken and off and were traveling toward her lumbar spine. In her case, surgeons suggested against surgery because they felt it would be too risky.
Contact a IVC Filter Lawsuit Attorney at Dallas W. Hartman, P.C.
In addition to the Bard Recovery IVC filter and the Bard G2 IVC filter, other IVC filters are being investigated, including the Bard Denali, Bard Eclipse, Bard Meridian, Cook Gunter Tulip, and the Cook Select. Patients who have been injured or died from fault retrievable IVC filters suffer from infection, chest pain, pulmonary embolism, excess fluid near the heart, heart compression caused by fluid build-up, lower-limb deep vein thrombosis (DVT), hematoma, stroke, and, in the worst cases, death. Our Pittsburgh wrongful death lawyers have the experience and litigation skills to handle your IVC filter lawsuit.
If you believe that you have suffered a serious injury due to one of these devices, or if you believe you have lost a loved one after he or she was implanted with a retrievable IVC filter device, contact the defective medical device attorneys at Dallas W. Hartman, P.C. Our team of experienced Pittsburgh personal injury lawyers offer free initial consultations. To find out how an attorney can help, contact us online or call 1-800-777-4081.