Pittsburgh Wrongful Death Attorney
How Can Your Family Recover After a Fatal Accident?
Have you lost a loved one? Our Pittsburgh wrongful death attorneys can guide you in seeking financial compensation for your loss. Call the wrongful death lawyers at Dallas W. Hartman, P.C. about your case. They serve clients throughout Allegheny County as well as across the rest of Pennsylvania and Ohio. They offer initial complimentary consultations for wrongful death claims.
We cannot bring your loved one back. We cannot ease the pain and anger you feel knowing that someone else's negligence or carelessness has cost your family so much. We can, however, help your family obtain financial recovery so that you can move forward together without a financial burden.
For over 24 years, our law firm has fought for justice for the victims of fatal accidents and deadly medical negligence in Pennsylvania and Eastern Ohio.
Sometimes Financial Justice Is the Only Justice We Can Offer
It's not just about assigning blame and making the responsible parties pay for what they have done. It's about making sure that your family has the resources to rebuild after a tragedy.
Our commitment is to see to it that you receive the maximum fair compensation for medical bills, funeral costs and the loss of a loved one so that you can provide for your needs. Our hope is that, with our help, you will be in a position to once again build a life of happiness.
What Are The Common Causes of Wrongful Death in Pittsburgh, PA?
Under 42 Pa. C.S.A. Section 8301, a qualified survivor can bring a wrongful death action for the death of their loved one if the death was "caused by the wrongful act or neglect or unlawful violence or negligence of another." This means that if your loved one's death was caused by someone else's negligence, recklessness, or intentional act, you may be able to pursue a wrongful death claim.
Common causes of wrongful death in Pittsburgh, PA include:
Car accidents

Dangerous drugs

Electrocutions and electrical shock accidents

Gas explosions

Slips and falls 

Truck accidents

Workplace accidents
If you lost a loved one due to another person's negligence, contact us today for a free case review where we can discuss your legal rights and options.
Why Hire a Wrongful Death Lawyer?
Our respected wrongful death attorneys in Pennsylvania have the experience and skill to handle the complicated and often unpleasant legal details while you focus on holding your life and your family together. Talk with a representative at our law firms located in Pennsylvania and Ohio.
It is important for you to understand that filing a claim will require us to determine the price you have had to pay for another's carelessness in financial terms. Treating a loved one's death as a monetary issue is emotionally hard for some of our clients. Our team of wrongful death attorneys in Pittsburgh provide compassionate client care with experience in handling these difficult and emotional lawsuits. Getting expert legal advice from a Pittsburgh work injury lawyer if you have lost a loved one after a fatal workplace accident can help you understand Pennsylvania workers' compensation laws.
Who May File a Wrongful Death Lawsuit in Pennsylvania?
According to Pennsylvania law, only a personal representative of the victim's estate can file your claim. This representative can be determined by the deceased person's will, or is designated by the court. This representative has up to six months from the death of the individual to file a claim. After this time, however, if a representative hasn't filed a claim, it is opened up to other immediate family members, distant relatives like grandparents or siblings, or other financial dependents of the deceased.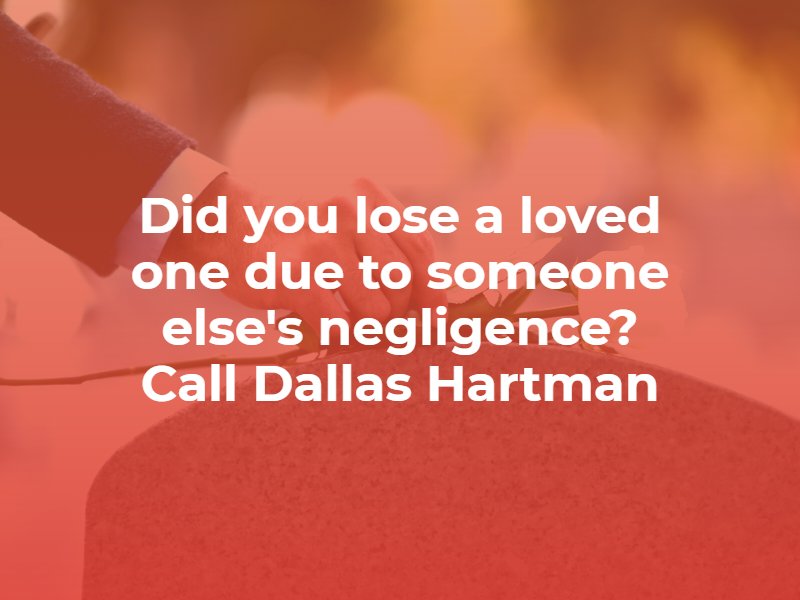 What is the Definition of a Wrongful Death Lawsuit?
A wrongful death lawsuit is a case where a negligent, unlawful act of someone caused the death of another person. This could either be a sole person or an entire corporation or government. Wrongful death can occur by car accident, medical malpractice, truck accidents or premises liability. This type of claim is brought in a civil action against the defendant by the victims' family or affected parties. The specifics for a wrongful death case will differ from state to state.
How long do I have to file a Wrongful Death Case in Pennsylvania?
There is a specific time frame in Pittsburgh and throughout the state of Pennsylvania in which to file a claim for your loss. This is known as a "statute of limitations". Currently, the time maximum in PA is within 2 years of the date of the death of your loved one. It is a maximum of 2 years in Ohio as well. If you exceed this timeframe, it's possible that the court will reject the claim, unless there are exceptional circumstances to justify the delay in filing.
Statutes of limitations differ from state to state, and there are different timeframes in place for different types of personal injury cases. Some states have adopted the 2 year limit like Pennsylvania, however, others have one-year or even three-year statutes in place.
What do I have to do to prove a Wrongful Death Case?
To win a Pittsburgh wrongful death lawsuit, you must successfully provide what is known as the "burden of proof" to indicate that the defendant caused the death of the victim. You need to prove all of the following:
An opposing party owed a duty of care to the deceased victim.
The defendant failed to provide the duty of care by a reckless or negligent act.
The act in question was the legal cause of the victim's death.
To what extent was the harm caused by this negligent event.
In the case of a fatal truck accident, working with a Pittsburgh truck accident lawyer can help you prove that the negligent truck driver is at fault for your loss. Or in the case of a catastrophic slip and fall accident that resulted in the death of a loved one, our team of Pittsburgh slip and fall injury attorneys can help you prove the negligence of the property owner at fault.
Wrongful Death Damages Our Attorneys Can Help Recover
The team of Pittsburgh wrongful death attorneys at Dallas W. Hartman P.C., Attorneys at Law want you to be able to recover maximum compensation after someone's negligence led to the loss of your loved one. We can seek financial recovery for:
Projected lost income

Loss of companionship

Pain and suffering 

The cost of funeral and burial expenses

Hospital, nursing, and medical expenses and administration expenses necessitated due to injuries causing death 
Your family will be facing many challenges after a loss. If you lost a loved one after a fatal car accident, let our Pittsburgh car accident lawyers help you recover the compensation you deserve to ease the financial burden.
What is the Pennsylvania Survival Action Statute?
A survival action is a legal process for family members or loved ones to seek damages from the lifetime of the deceased. This includes not only compensation from pain & suffering, but also the loss of earnings from the past or in the future. There is a 2 year statute of limitations on this type of claim as well in Pennsylvania, and it starts on the actual date of the injury of the victim.
What is the Difference Between a Survival Action and a Wrongful Death Claim?
The difference between a regular wrongful death claim and a survival action is this: a survival action claim protects the descendent rights during his or her lifetime, while a wrongful death action is a primary method by which a decedent's death beneficiaries may recover for their loss of physical, emotional, and financial support because of the loss of their loved one.
Unlike a murder case, which the evidence needs to prove beyond a doubt the guilt of the defendant, in wrongful death lawsuits, the plaintiff only needs evidence to show that the defendant more likely than not caused the death.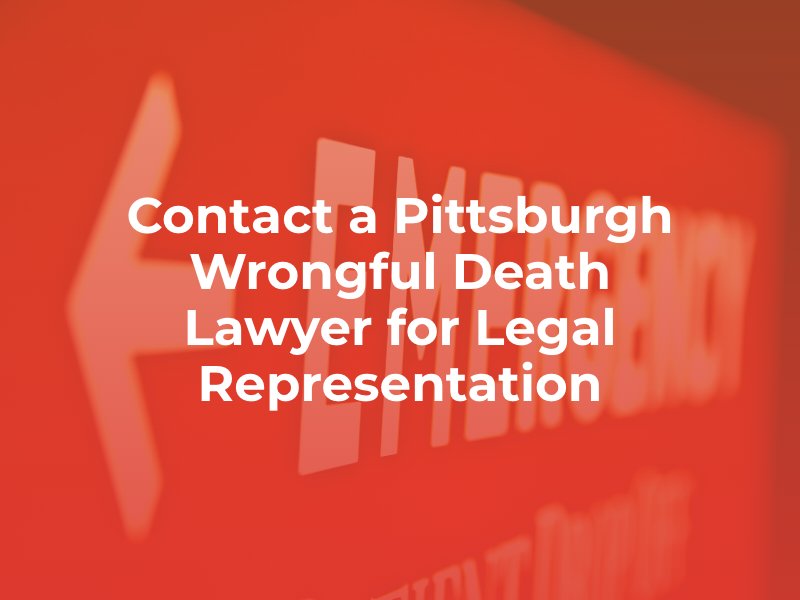 Frequently Asked Questions in Pittsburgh Wrongful Death Cases
Our firm receives many questions about wrongful death claims. Here are some of the most frequently asked questions: 
Do I Have a Valid Case?
Every wrongful death case is different, but you must be able to establish certain legal elements to win your case. An experienced wrongful death lawyer can discuss the particular details surrounding the death of your loved one and determine whether you have a viable claim during your free case review. 
What Is
the Deadline
to Bring a Wrongful Death Case? 
The general statute of limitations is two years from the date of your loved one's death to file a wrongful death case. A lawyer can discuss the time limit that applies to your case. 
Can I File a Wrongful Death Claim If My Loved One Filed a Personal Injury Case? 
As long as your loved one did not obtain compensation due to the accident during their lifetime, you should be able to file a wrongful death claim. If your loved one began a case during their lifetime that had not concluded, the cases can be consolidated to avoid duplicate recovery. 
What Is the Difference Between a Civil and Criminal Case?
Criminal and civil cases serve two very different purposes in society. A criminal action is brought by the state to punish someone for breaking the law and to serve as a warning to other people who might think of breaking the law in a similar way. If a criminal defendant is found guilty, they may be sent to jail, be required to pay a fine, or face other criminal consequences. 
In civil cases, like personal injury or wrongful death cases, the goal is to make the victim whole. While no amount of financial compensation can ever bring your loved one back, giving money to the victim is the only way the court has to try to make things right. The objective is to compensate the survivors for the losses they suffer and will suffer because of their loved one's death. 
Pittsburgh Wrongful Death Lawyers – Experience with a Reputation You Can Trust!
Need help? As a comprehensive Pittsburgh personal injury, medical malpractice and wrongful death law firm, the team at Dallas W. Hartman P.C., Attorneys at Law frequently handles complex and significant cases. We are proud of our record of success in standing up for the rights of families like yours who have lost so much.
If you would like to talk to one of our Pittsburgh wrongful death attorneys who will answer your questions and give you the honest advice you can trust, contact us today. Your consultation will be free of charge and free of any pressure. Call us today!  (412) 262-2888 in Pittsburgh or toll-free (800) 777-4081 today!