Pittsburgh PA Legal Malpractice Attorney
When a lawyer you place your trust in betrays you by mishandling your case, you may have a remedy in Court. Attorney Dallas W. Hartman represents individuals in suits against Pennsylvania lawyers and Ohio attorneys alleging damages caused by negligence or the failure to reasonably exercise ordinary skills.
What Is Legal Malpractice?
Malpractice is the legal term for negligent, improper or illegal actions or activities committed by a professional. A lawyer commits malpractice when he or she fails to provide quality legal services to a client. If the attorney, through an error or omission, fails to provide services that meet the minimum standard of care of a licensed attorney, then that lawyer has committed malpractice. That sounds like a complicated thing, but sometimes it is very simple – and very harmful to you.
It is important to remember, however, that just because you received a "bad" result from your former lawyer does not necessarily mean that the lawyer has committed malpractice. You may have received the "best" result possible under the circumstances of your particular matter. Malpractice does not mean that you simply did not get the case outcome you wanted – it is a failure of the attorney to use the correct standards of the practice during your claim, resulting in harm to you.
Types of Legal Malpractice
Legal malpractice is a broad tort that can refer to innumerable ways in which a lawyer may fail to apply the proper standards of care in performing his or her job duties. If you have reason to suspect that your attorney in Pittsburgh did not act in a way that a reasonable, prudent and competent attorney would have under the same circumstances – and this resulted in a negative case outcome or other damages suffered by you – you can file a legal malpractice lawsuit. Examples of legal malpractice include:
Missed filing deadlines.

If a lawyer in either Pennsylvania or Ohio fails to file your case within the proper legal time limits, you might have a claim for legal malpractice. This is called missing the statute of limitations.

Conflicts of interest.

If your former lawyer had a conflict of interest, you might also have a case.

A conflict of interest means that his or her loyalties lie elsewhere or are compromised, such as a lawyer who is related to the person you're suing.

Violated duties of care. Attorneys are held to specific rules and standards when representing clients. Violating any of these duties, such as by breaking the code of client confidentiality, is legal malpractice.
Poor representation. If your lawyer is incompetent or inadequate – such as by failing to know the law, apply it correctly to your case and prepare for a trial – this is legal malpractice. It is your lawyer's duty to be adequately prepared for your case.
Theft or fraud. Theft or "misappropriation" of client funds is, sadly, another way that unethical attorneys prey on their victims. An attorney may go as far as committing this crime through the use of fraud or deceit to steal your money without providing the services for which you paid.
The last thing you might expect from your lawyer is to mishandle your claim or behave negligently. After all, personal injury lawyers are trained to identify and expose negligence in others – not behave negligently themselves. Unfortunately, not all attorneys are created equal. If you believe your lawyer is guilty of negligence, illegal activity, unethical behaviors, fraud, misrepresentation, discrimination or other wrongful acts, you have grounds to pursue a legal malpractice claim in Pittsburgh.
Dallas W. Hartman P.C. Holding Attorneys Accountable in Pittsburgh
Legal malpractice lawsuits can be complicated, as you have your first case (the one that required you to hire the lawyer to begin with) and now a subsequent case against that lawyer for malpractice. We know it can be difficult to trust another attorney after such a negative experience with your first legal advocate. Attorney Dallas W. Hartman, however, is a proven lawyer in Pittsburgh with a long track record of real case results and satisfied clients.  
For Dallas, plaintiff's injury law is not just a job – it's his life's work. He is passionate about what he does and aims to make a positive difference in the lives of every client he represents. This includes providing zealous advocacy for victims of legal malpractice in Pennsylvania and Ohio.
As our Pittsburgh medical malpractice attorneys hold doctors responsible for their mistakes, and our Pittsburgh car accident lawyers hold negligent drivers accountable, our skilled Pittsburgh legal malpractice attorneys hold lawyers who are negligent responsible for their actions.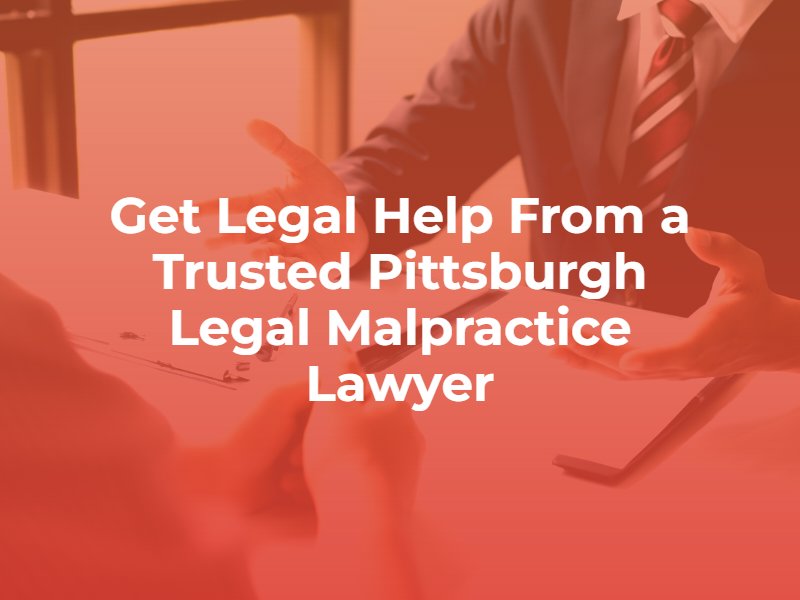 What Are Your Rights as a Victim of Legal Malpractice?
You should not accept the adverse outcomes you've suffered due to the negligent or criminal acts of an incompetent or corrupt lawyer. Stand up for yourself and seek justice by filing a legal malpractice claim in Pittsburgh. Suing your lawyer for malpractice can result in financial compensation to reimburse you for the economic and noneconomic losses that you've suffered because of your lawyer's mistake or wrongdoing. It can also hold a lawyer accountable for breaching the legal standards of care.
What Damages Are Available for Legal Malpractice in Pennsylvania? 
A successful legal malpractice claim can provide the compensation that you deserve as a victim. Your recovery could include:
The additional legal expenses and attorney's fees you had to pay pursuing a second lawsuit.

The fees you paid the incompetent attorney.

Your inconvenience and emotional distress.

The amount that would have been collected from the original defendant had your lawyer behaved appropriately and secured a more favorable outcome in your first case. 
Learn more about your rights in the face of legal malpractice by consulting with a skilled Pittsburgh legal malpractice lawyer that you can trust at Dallas W. Hartman, P.C.
Contact a Pittsburgh Legal Malpractice Attorney for Confidential and Free Consultations
Call 1-800-777-4081, or contact us online to find out if you have a case. Speak with a qualified and honest Pittsburgh legal malpractice attorney or professional negligence lawyer in Pittsburgh who will investigate your case. The legal malpractice attorneys at the Law Office of Dallas W. Hartman, P.C. have helped those who have been the victims of legal malpractice from across Pennsylvania and Ohio for over 20 years. Our lawyers also review cases from New Jersey and other areas. We understand that you may not want a local attorney to review your case, all consultations are confidential and completely free.