Pittsburgh Burn Injury Attorney
If you or a loved one has suffered a serious burn, talk to the Pittsburgh burn injury lawyers of Dallas W. Hartman P.C. to discuss the circumstances of your injury. You may be entitled to recover significant compensation from any party who is found liable for negligence leading to your injuries, including the property owner or the manufacturer of a defective product.
Pittsburgh Burn Injury Resources
Why Hire a Pittsburgh Burn Injury Lawyer?
Our lawyers often turn to our in-house doctor to help investigate the injuries our clients have suffered. We also turn to the country's leading accident reconstruction experts to investigate the cause of the accident, as well as the full extent of injuries and losses. We understand the impact your accident has had on your life as well as the lives of your entire family. Our attorneys will pursue your injury claim to help you get the settlement or verdict you deserve.
Burn Injury Statistics
You are not alone as the survivor of a serious burn injury. According to the American Burn Association, an estimated 486,000 burn injuries were treated in medical centers in the U.S. in a single year. About 40,000 burns required acute hospitalizations. The most common causes of these burn injuries were fire or flame (43 percent), scalds (34 percent), contact with hot objects (9 percent), electrical burns (4 percent), and chemical burns (3 percent). The majority of severe burn injuries occurred at home (73 percent).
What Causes Burn Injuries?
Many serious burn injuries in Pennsylvania are preventable. They arise due to human error, such as a distracted driver causing a car crash or a manufacturing company creating a defective product that starts a fire. If a defective product resulted in a burn injury, our skilled Pittsburgh defective product attorneys have the resources to help you seek compensation. Determining the cause of your burn injury is necessary if you wish to file a related injury claim. Burn injuries can result from a myriad of causes, including:
Heat

Radiation

Radioactivity

Friction

Chemical contact

Defective products

Fume ignitions

Flammable liquids

Scalding hot liquids

Respiratory damage from smoke inhalation

Other reactions and reasons
A serious burn injury often leaves the victim with tissue, muscle, and organ damage that goes much deeper than the physical pain and scarring. If you or a loved one has been burned because of the negligence of another party, you need an experienced Pittsburgh burn injury lawyer to fight for you.
Types of Burns and Burn Injuries
The type of your burn injury, as well as its severity, can determine the amount you are eligible to recover in financial compensation in Pittsburgh. How seriously the burn will impact you can determine costs such as your medical expenses, rehabilitation, lost earnings, physical pain and suffering, and psychological distress. Identifying the type of burn is also critical for you to receive the proper type of care, as there are different remedies for different types of burn injuries. There are four main types of burns:
Thermal Burns: the most common type of burn injury and happens from contact between the skin and a hot object, such as an open flame or steam.
Electrical Burns: stems from contact with a live electrical element, such as a power line. They can also come from lightning strikes.
Chemical Burns: arise from caustic chemicals that touch the skin or are ingested, including base or acidic chemicals.
Radiation Burn: comes from a source of radiation energy, such as the sun or x-rays.
Your doctor will need to know what type of burn you suffered to administer the proper treatment. If you suffered an electrical burn, for example, your doctor will need to check for any internal damage as well as external injuries. You may be eligible for financial compensation with any type of burn injury in Pennsylvania if someone else caused or contributed to the injury.
How are Burns Classified?
Once your doctor has identified your type of burn injury, he or she will classify it based on how deeply it has injured the skin and underlying tissues. Burn injuries range drastically in their severity and generally fall into three categories:
First-Degree Burns: First-degree burns damage the outermost layer of skin. Typically, they cause temporary injury in the form of swelling and pain. Victims usually recover without permanent damage or scarring.
Second-Degree Burns: Second-degree burns cause damage to the top two layers of skin. may result in local infections and blisters. Often, they can heal, but healing takes longer, and there is sometimes permanent scarring or damage.
Third-Degree Burns: Third-degree burns burn through every layer of skin and almost always lead to permanent damage, both cosmetic and functional. Third-degree burns may affect the tissue so deeply that your neurological system is affected. Amputations are also common for this level of burn.
The category of your burn injury will also alter your treatment plan. As a general rule, you should always go to a hospital for a second- or third-degree burn. You may not need professional medical care for a first-degree burn unless it is large or covers a sensitive part of the body, such as the face.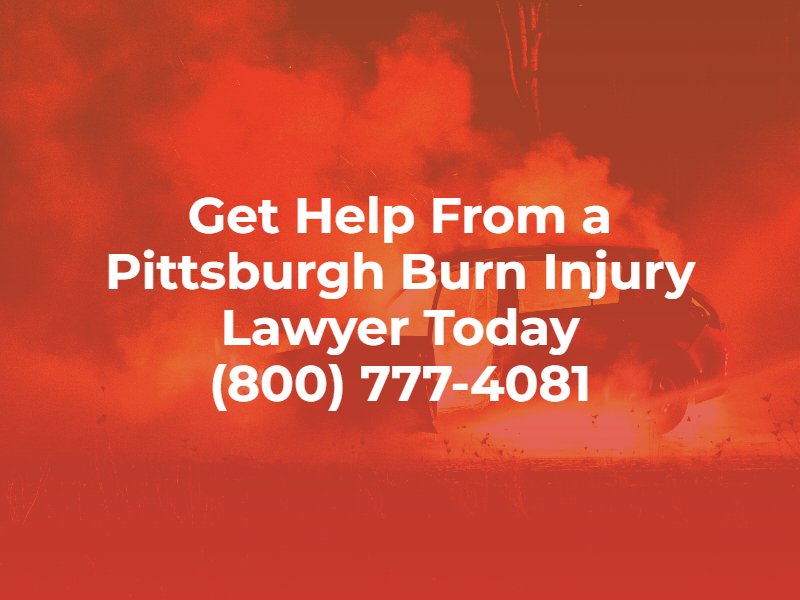 What Compensation Is Available for Burn Injuries?
In addition to expensive medical treatment, burn victims endure severe physical and emotional pain. If your burn injury was caused by another's negligence, you may seek compensation in a personal injury lawsuit. Typically, compensation is sought for:
Medical expenses, including hospitalization, treatment, therapy, medication

Lost income, starting from the time of the accident and projected until recovery

Pain and suffering

Other compensation: if a person's face is severely burned, they are often entitled to special damages.
The value of your burn injury claim in Pittsburgh will depend on factors that are unique only to you, such as your injury diagnosis and prognosis. In general, the more severe the burn injury, the greater the value of the case. A skilled burn injury attorney in Pittsburgh can estimate your case value to help you avoid settling for less than you deserve.
How a Pittsburgh Burn Injury Lawyer Can Help
A Pittsburgh burn injury lawyer can make it easier to go up against an insurance company in pursuit of fair and full financial compensation. Your attorney will know how to negotiate for the best possible results. Your lawyer will also improve your peace of mind by always putting you and your needs first. A lawyer is your advocate in all things, keeping you updated about the status of your case and protecting your best interests. It is especially important to hire a lawyer if you suffered a severe third-degree burn injury, as an insurance company may try to take advantage of you.
Schedule a Free Consultation with our Pittsburgh Burn Injury Lawyers
For nearly a quarter of a century, the Pittsburgh personal injury attorneys of Dallas W. Hartman P.C. have been serving the legal needs of victims of negligence in Pennsylvania and Ohio. Our experienced lawyers tenaciously protect your rights as we pursue the full and fair money damages you deserve.
Let our Pittsburgh burn injury lawyers put our experience to work helping you recover the justice you deserve. From our offices in New Castle, Pittsburgh, Hermitage, Butler and Erie, we represent plaintiffs in Pennsylvania and Ohio. Contact us to arrange a consultation with an experienced Pennsylvania or Ohio burn injury lawyer today. Call us in Pittsburgh at (412) 262-2888 or toll-free at (800) 777-4081 today!