Mercer County & Hermitage Personal Injury Attorney
A personal injury can stop you in your tracks. It can send you to the hospital, drain your bank account, and make it impossible to return to work. It can turn your life upside down, changing your priorities and your future. After suffering a serious injury in a car accident, slip and fall, workplace incident, medical malpractice, or another scenario in Hermitage, you need an attorney by your side to help you get your life back. You need Dallas W. Hartman P.C.'s aggressive legal representation.
Injury Attorneys at Dallas W. Hartman P.C. Serving Hermitage and Mercer County
Dallas W. Hartman P.C. is proud to serve all Mercer County, Pennsylvania, including its largest city, Hermitage, as well as Grove City. Mercer County currently has a population of almost 113,000. Every year, hundreds of residents visit county hospitals to tend to personal injuries. In 2014 (the most recent year data are available), Mercer County recorded 1,542 hospital visits – the majority related to falls and motor vehicle accidents. Getting the facts on personal injuries in the local region can help you learn more about your accident:
The majority (866) of Mercer County accident victims in 2014 were women.
Falls sent 721 people to Mercer County hospitals in 2014.
In 2016, there were 15 fatal vehicle crashes and 545 injury crashes in Mercer County.
One pedestrian died and 13 were injured in Mercer County vehicle collisions in 2016.
Three people died in alcohol-related collisions in Mercer County in 2016.
Hermitage, Pennsylvania, has a population of 16,220 people, spread out over 29.5 square miles of land. It is the third-largest city in the state by area. Grove City is a Mercer County borough about 75 miles south of Erie. It is partly a college town, home to Grove City College. Grove City was historically an industrial location, with manufacturing centers that produced train engines, carriages, trucks, and other products. There was one fatal car accident in Hermitage and Grove City in 2014. Aside from car accidents, Hermitage and Grove City residents sustain injuries at work, at grocery stores, and right at home.
Basics of Personal Injury Law
Personal injury law, or tort law, offers a legal remedy for people who suffer losses in an accident or incident. The goal of a personal injury legal system is to allow an injured person to recover financially for losses relating to someone else's negligence, carelessness, or intentional misconduct. Personal injury laws can apply in a great number of situations, from car accidents to homicide. The most common practice areas include negligence, product liability, premises liability, and medical malpractice. While each case is unique, the majority possess the same four elements:
The defendant's duty of care to the plaintiff. The defendant (the party being sued) owes the plaintiff (party doing the suing) a duty of care based on the relationship between the two parties. For example, drivers owe duties to other drivers, doctors owe duties to patients, and attorneys owe duties to clients.
The defendant's breach of duty of care. Almost any act or failure to act on the part of the defendant can constitute a breach of duty if it fails to fulfill the accepted standards of care. Proving a breach often takes an expert witness testifying that a "reasonable and prudent" person in the defendant's situation would have done something differently.
Causation between the breach of duty and the accident. It is not enough to show the defendant acted negligently – the plaintiff must have evidence that the defendant's breach of duty was the proximate cause of the accident. The "proximate" cause means the main driving factor. The accident would not have happened but for the proximate cause.
The plaintiff suffered damages. If the plaintiff did not suffer a personal injury, emotional damage, or property loss in the accident, he or she has no claim to make. The very nature of a claim is to make a stake for an amount the plaintiff believes is suitable to compensate him or her for damages.
In any situation in which a person or entity causes someone else's injuries, personal injury law may step in to play. As long as the plaintiff has the above-mentioned four elements, he or she has a very good chance of a successful lawsuit. There are cases in which all four elements are not necessary. For instance, proving breach of duty is not a requirement in products liability or strict liability claims, wherein the defendant is liable regardless of the question of negligence. The Hermitage injury lawyers at Dallas W. Hartman P.C. can help you with the elements of a specific claim.
Common Types of Injuries in a Personal Injury Claim
The injuries our clients have had here at Dallas W. Hartman P.C. have varied greatly. We've represented clients with everything from first-degree burns to crippling spinal cord injuries. An injury is "catastrophic" in the eyes of the law if it causes permanent scarring, disfigurement, or disability. Catastrophic injuries typically qualify for the greatest amounts of compensation, as judges and juries can see how much they impact the lives of victims. Common injuries one may sustain in an accident include:
Accidental poisoning
Broken bones
Drowning-related injuries
Internal injuries
Muscle-related injuries
Whiplash from car accidents
No matter what type of injury you sustained in Mercer County, contact our attorneys. We want to investigate your case and help you file a personal injury claim in Hermitage or Grove City, if applicable. We will help you gather your medical bills, police reports, and other documents relating to your accident and injuries. Let our Hermitage personal injury attorneys take care of the paperwork while you focus on healing from traumatic injuries. Your first step toward compensation is to speak with one of us.
What Damages Can Be Recovered in a Mercer County Personal Injury Case?
Typically, the most expensive type of damages in a personal injury case is medical costs. Past and future medical bills relating to a personal injury include every single dollar, from the arrival of the ambulance to live-in care for a permanent disability. Medical bills in a case can cost in the millions depending on the circumstance of the injury. Dallas W. Hartman P.C. has won seven-figure settlements and verdicts for its clients, partly by demonstrating to judges and juries just how much the injury will cost. Medical bills can encompass:
Ambulance fees
Hospital stays
Scans, tests, and X-rays
Doctor's appointments
Surgical procedures
Prescriptions and medications
Medical devices (e.g., wheelchair, oxygen tank)
Rehabilitation or physical therapy
Psychological therapy
Live-in nurse or care
Home or vehicle modifications for a disability
Mercer County residents spent $75,707,622 on hospital bills for personal injuries in 2014. The median charge amount was $24,036. Who pays these bills? You – either out of pocket or in conjunction with your health insurance policy. In a successful personal injury case, however, you may not have to pay your medical costs. Instead, the insurance settlement or jury verdict will give you the money you need to put toward these expenses. The courts will award compensation for past and future medical expenses relating to the accident – a lifetime of costs for some victims. A successful claim can change your life.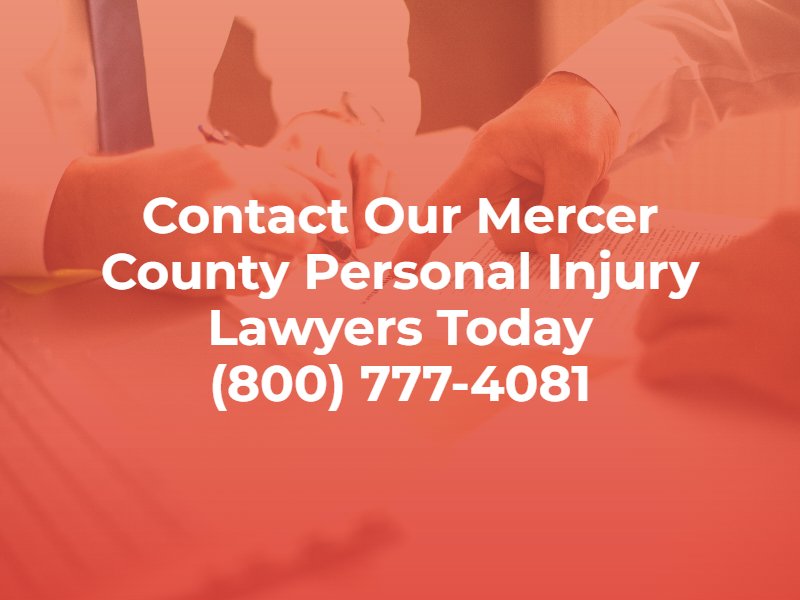 What to Do After a Serious Injury
A serious personal injury can be terrifying. Physical pain, hospital bills, and loss of income can hit you all at once. Luckily, there are legal professionals with the tools to walk you through even the most severe accidents. Our Mercer County law firm has what it takes to help you come out on top after a major accident. While every case is different, there are a few general steps you can take to optimize your chances of recovery. Here's what to do after a serious injury:
Check yourself and others for injuries. Look for visual cues such as blood or swelling, as well as pain cues. Take care of yourself before helping others involved in the accident.
Don't move right away. If you can't feel any of your limbs or experience weakness or tingling, do not move. The same is true if you feel pain in your neck or back. Moving the wrong way can turn a minor spine injury into a major one. Wait where you are until paramedics arrive.
Call 911. Always call the police and report the accident if you have serious injuries. If you're at work, report to your supervisor. If you slip and fall on someone else's property, contact the property manager. When in doubt, dial 911 and talk to the police. An official report can help your case down the road.
Take notes. If you can, gather information about your accident such as how and where it happened. Get the names and contact information of anyone involved. Take photographs of injuries and property damage.
Go to the hospital. Get to the hospital for treatment of serious injuries ASAP. Do not delay or put off seeing a doctor. Waiting can worsen your injuries and hurt your chances of securing compensation. Visit the hospital and explain what happened, even if you don't feel injured. You could have hidden injuries such as brain damage.
If you didn't do any of these steps after a recent accident, don't worry. The most important thing to remember is that our lawyers are here to guide you through the next few days, weeks, and months – no matter what. The final step is the main one to keep in mind: contact Dallas W. Hartman and his team to discuss the potential for a personal injury claim.
Contact our Team of Mercer County Personal Injury Attorneys
Reach out to an attorney at Dallas W. Hartman P.C. and request a free consultation at (800) 777-4081. You can also submit our contact form describing your case, and we'll get back to you as soon as we can. Our team of personal injury lawyers in Mercer County are skilled in handling complex injury cases and are committed to securing compensation after your injury. We are your source for personal injury help in Hermitage, Grove City, and throughout Mercer County.