Pennsylvania School Bus Accident Attorney
When you send your child to school on the bus, the last thing you expect is to get a call that the bus has been involved in an accident. Unfortunately, these types of accidents occur every year in Pennsylvania. If your child was injured in a school bus accident or you were involved in a collision between your motor vehicle and a school bus in Pennsylvania, learn your rights.
The attorneys at Dallas W. Hartman P.C. are here to assist you and your family with an injury claim after a school bus accident. We offer free case consultations to potential clients and can answer your legal questions after listening to your story.
Why Choose Us?
We have offered high-quality legal representation to school bus accident victims throughout Pennsylvania for more than 30 years.

Your lawyer will provide individualized attention to your case. We achieve the

best possible case results

for each client by personalizing our legal services.

Our Pennsylvania school bus accident lawyers operate on a contingency fee basis, meaning you won't pay your attorney a dime unless you win your case.
Common Causes of School Bus Accidents in Pennsylvania
Most school bus accidents in Pennsylvania are avoidable. They are often traced back to human error, such as a negligent school bus driver. If someone is negligent, it means that person failed to exercise reasonable care. Unfortunately, not all school bus drivers in Pennsylvania use the required level of care when operating a bus. Despite being responsible for the lives of dozens of students, a school bus driver may behave negligently or carelessly behind the wheel. 
Common causes of school bus accidents that our Pittsburgh bus accident lawyers have handled include:
Distracted driving

Texting while driving

Speeding

Unsafe passing

Making unsafe left-hand turns

Failing to yield the right-of-way

Running red lights and rolling through stop signs

Tailgating or following too closely 
In some cases, however, a bus driver is not responsible for a school bus accident. The bus might have experienced a tire blowout, for example, or another type of equipment breakdown that caused the bus to crash. Another possibility is that the road the school bus took had a dangerous defect, such as a pothole. An investigation and help from a Pittsburgh defective product lawyer may be required to determine the cause of a school bus crash in Pennsylvania.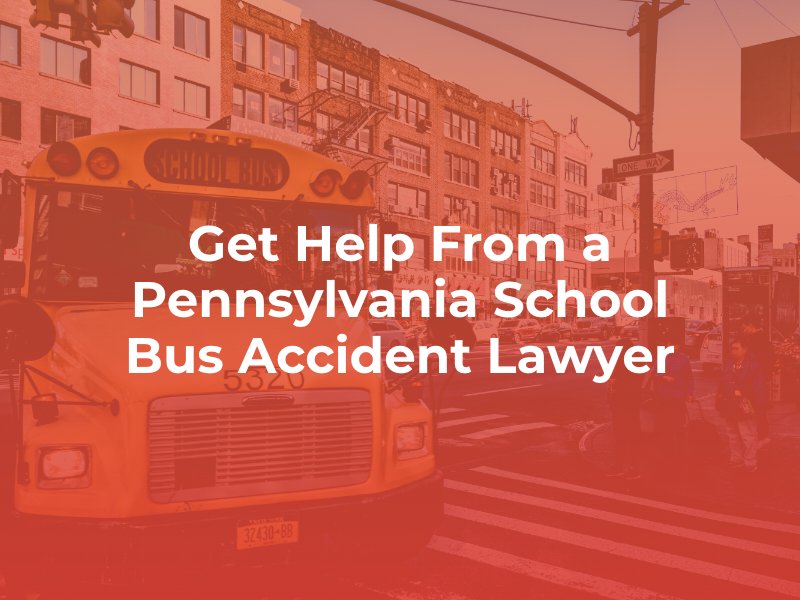 Who Is Liable for a School Bus Accident in Pennsylvania?
If an investigation finds that the school bus driver broke a traffic law or otherwise behaved negligently and this caused the crash, the school can be held vicariously liable. The legal doctrine of vicarious liability states that an employer will be responsible for the actions and wrongdoing of its employees – including schools and their hired bus drivers. This rule makes most schools responsible for bus accidents caused by negligent drivers.
However, a school could also be held responsible if a bus driver is not to blame. If the school bus contained a defective part, for example, due to the school's inadequate bus maintenance, victims and their parents may be able to hold the school directly liable. Negligent driver hiring and retention practices, a lack of bus driver training, and ignored safety protocols are also examples of negligence that could make a school liable for a preventable bus accident. A school bus accident lawyer in Pennsylvania can analyze your case to determine the liable party or parties on your behalf.
Contact a Pennsylvania School Bus Accident Attorney Today
A school bus accident can cause devastating physical injuries, emotional trauma, pain and suffering, expensive medical bills, and many other life-changing losses for a victim and his or her family. At Dallas W. Hartman P.C., our Pittsburgh personal injury attorneys are dedicated to helping victims and their families recover from tragic school bus accidents. We know that most of these collisions are preventable. Our school bus accident attorneys in Pennsylvania are passionate about holding wrongdoers accountable. 
You are not alone in the aftermath of a school bus disaster in your community. If you lost a loved one in the event of a fatal school bus accident, our team of compassionate wrongful death attorneys in Pittsburgh have the legal expertise to represent your case. Call our law firm at (800) 777-4081 or contact us online to request a free case consultation today.