Pittsburgh Hit and Run Accident Attorney
What do you do if you were in an accident with a driver who doesn't carry auto insurance? Where do you turn for compensation if you were in a pedestrian or bicycle accident with a hit-and-run driver? Were you forced off the road by another motorist, causing you to be injured? Phantom drivers cause millions of dollars in damage on our roads every year. Under Pennsylvania law, auto insurance policies automatically include an amount of coverage for accidents with uninsured or underinsured motorists. In Ohio, the special rider is not required, but most drivers carry some level of coverage to protect themselves from irresponsible drivers.
An experienced Pittsburgh hit and run accident lawyer at Dallas W. Hartman, P.C. can explain your legal options during a free case consultation. Contact us today for more information. 
Duty to Stop After a Pittsburgh Car Accident
Pennsylvania law requires a person who is involved in an accident that results in property damage, injury, or death to stop at the scene of an accident and remain there until they give their name, address, and vehicle registration number to anyone injured in the accident. Also, they must show their driver's license and give their insurance information if requested by the victim or a responding law enforcement officer. There is also a duty to render aid, including arranging for transportation so that the victim receives prompt medical care. 
What Are the Legal Consequences for Hit and Run Accidents in Pittsburgh, PA?
If a driver does not fulfill their legal duties described above, they can face criminal penalties, which can consist of:
Options for Recovering Financial Compensation for Damages After a Hit and Run Accident
Many people who suffer injuries or property damage from "phantom drivers" don't realize that they can recover compensation from their own auto insurance policies. Many people who pay additional premiums to "stack" their policies for multiple cars can even collect against all policies after an accident with any one of their covered cars or vehicles. Your insurance company does not automatically pay these claims. Often it requires the assistance of an experienced Pittsburgh uninsured car accident attorney to help you get the compensation you deserve.
Types of Compensation Available After a Pittsburgh Hit-and-Run Accident
If you were hurt in a hit-and-run accident, you deserve to be fully compensated for the losses you have suffered. The injuries and losses you suffer are called "damages," and you can seek financial compensation for these damages by filing a personal injury claim. 
You may be able to recover compensation for losses stemming from your hit-and-run accident, which may include:
Hospital bills

Ambulance charges

Bills for medical treatment

Costs for surgery

Costs of labs and diagnostic tests

Costs of prescription medications

Rehabilitation expenses

Medical expenses you anticipate incurring in the future

Lost wages

Lost employment benefits

Loss or reduction of earning capacity

Loss of companionship and consortium 

Emotional and physical pain and suffering 
An experienced Pittsburg hit and run accident attorney can help explain the type of compensation you may be able to recover. Schedule a free case evaluation with Dallas W. Hartman, P.C.  to learn more about your rights.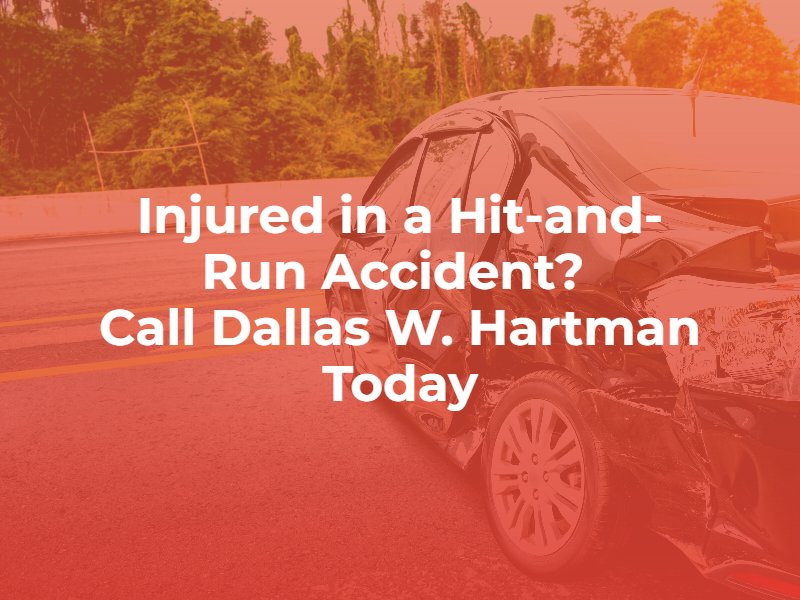 What happens if the person at fault has no insurance in Pennsylvania?
If you were injured in a hit-and-run accident or an accident involving an uninsured driver, talk to an experienced Pittsburgh personal injury attorney at the Dallas W. Hartman, P.C. We represent plaintiffs in accident injury claims throughout Pennsylvania and Ohio.
No matter how long you have been paying your auto insurance premium with your insurance company, when you file a claim against your uninsured motorist coverage, you are likely to be treated like any other accident victim seeking damages. You will be going up against experienced insurance defense lawyers who will do everything possible to minimize the payout. Putting an experienced Pittsburgh car accident lawyer on your side is your best advantage to winning the settlement you deserve.
Contact our Pittsburgh Hit and Run Accident Attorney for a Free Consultation
If you suffered an injury or damages because of a phantom driver, don't fight your insurance company alone. Reach our to a Pennsylvania injury attorney at Dallas W. Hartman P.C. today. Let us put our experience to work helping you recover the justice you deserve after an uninsured driver caused your injury in a car accident. From our offices in Pittsburgh, New Castle, Hermitage, Butler and Erie, our team of attorneys represent plaintiffs in communities throughout Pennsylvania and Ohio. Contact us to schedule a free consultation with an experienced Pittsburgh hit-and-run accident lawyer. Call (800) 777-4081 today.