Pittsburgh Uninsured or Underinsured Motorist Accident Attorneys
Despite the fact that insurance is a legal requirement for all vehicles on the road, many drivers choose to take their chances and drive without any kind of insurance coverage. This can cause serious problems for other drivers and passengers who are injured in an accident by someone who does not have insurance. The good news is that it may still be possible to recover the compensation you deserve for your losses.
At Dallas W. Hartman, P.C., our Pittsburgh personal injury lawyers handle uninsured motorist claims and have extensive experience holding negligent drivers and insurance providers accountable to the responsibilities that they owe to accident victims.
We Work Hard to Help You Recover Full and Fair Compensation
When you have been involved in a car accident, the last thing you want to do is to go back and forth with insurance companies and the other driver. Even if your initial claim is denied because the other driver claims a lack of coverage, the attorneys at Dallas W. Hartman P.C. will still work hard on your behalf to help you recover compensation for:
Rehabilitation
Vehicle loss
Pain and suffering
Many insurance policies carry uninsured motorist coverage provisions. We will thoroughly review the terms of your policy so you are made aware of all of the benefits to which you may be entitled. Even if your insurance policy does not take into account the full extent of your losses, we may be able to find other avenues of compensation to help make you whole again.
What Types of Auto Insurance Are Required in Pennsylvania? 
All motor vehicle drivers in Pennsylvania are required to show proof of financial responsibility on motor vehicles that are registered in the state. This comes in the form of mandatory car insurance. Pennsylvania is unique in that it is one of just 12 no-fault states in the country. Under the no-fault rule, motorists must pay for their own car accidents, regardless of fault, with some exceptions.
Currently, the required types of auto insurance in Pennsylvania are:
$5,000 in medical benefits, also known as personal injury protection (PIP)

$5,000 in property damage liability insurance

$15,000 per person in bodily injury liability insurance

$30,000 for injury or death to multiple persons, or per accident
A driver can choose to purchase full tort or limited tort insurance coverage. Limited tort is less expensive but limits a driver's ability to file a claim against another driver to only crashes that cause severe injuries and meet the state's threshold. Full tort insurance, on the other hand, gives a driver unrestricted rights to bring a lawsuit against an at-fault party.
What Is Uninsured/Underinsured Motorist Insurance? 
A driver in Pennsylvania who wishes to add additional financial protection in the event of a car accident may choose to purchase uninsured or underinsured motorist (UM/UIM) insurance. This coverage pays for the policyholder's medical bills and bodily injuries to passengers after an accident caused by an uninsured or underinsured motorist. It can also pay after a hit-and-run accident. It does not, however, pay for property damage. A driver would need collision insurance to pay for his or her own vehicle damage.
Pennsylvania law requires all insurance companies to offer uninsured and underinsured motorist coverage to clients. A driver must opt out of UM/UIM insurance in writing. If you do not remember opting out of this coverage, you may have it on your policy. After a crash with an uninsured or underinsured driver, contact your own car insurance company to find out if you have this coverage. If so, explain that you have been in an accident with a driver who does not have enough insurance and follow the instructions for filing a claim.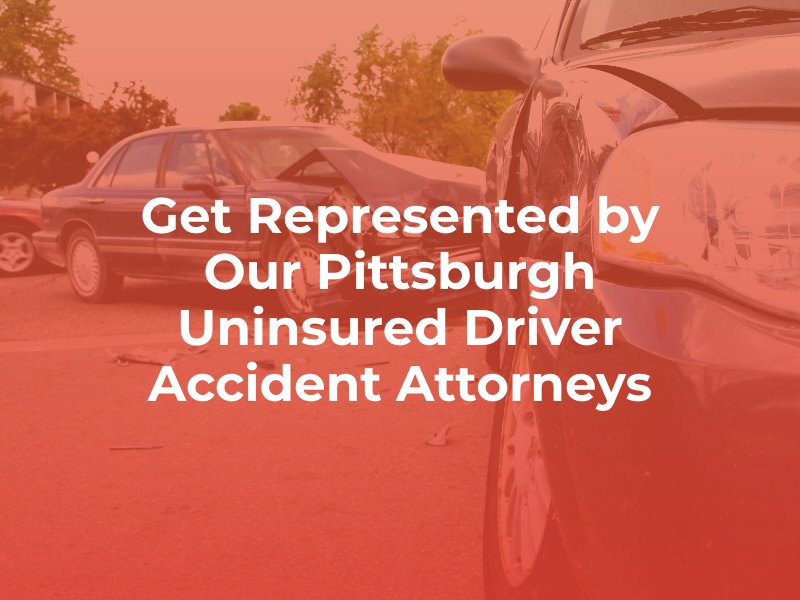 Will No-Fault Insurance Pay for an Accident With an Uninsured Driver? 
Yes and no. If your car accident is only minor, with mild or no injuries, your own personal injury protection insurance may be enough to cover the full costs of your medical care. You can receive at least $5,000 in benefits through your own PIP coverage in Pennsylvania, whether or not the other driver has insurance. If your injuries cost more than $5,000, however, you might need to seek another source of financial compensation.
If you do not have UM/UIM coverage on your car insurance policy, you may have to seek medical bill payment through your health insurance company. A car insurance claim may not be an option if the at-fault driver does not have insurance and the cost of your injuries exceeds the coverage on your own policy. Another possibility, however, may be filing a lawsuit against the other driver or a third party.
Filing a Lawsuit in Pennsylvania After a Car Accident With an Uninsured Driver
If your injuries are severe enough to meet Pennsylvania's tort threshold or you purchased full tort car insurance coverage, you will have the right to bring a tort claim against the other driver, even if he or she does not have insurance. If the other driver has any assets – including money in a bank account, wages that could be garnished, property or vehicles – he or she may have to pay for your damages out of pocket. 
In some cases, a lawsuit brought against a third party is also an option. If the other driver does not have the financial means to pay, contact an experienced Pittsburgh car accident attorney to discuss the possibility of holding someone else accountable. For example, if a road defect contributed to the crash, you may be able to file a claim against the government. If an auto part defect exacerbated your injuries, the product manufacturer could be liable. Another option is the driver's employer if he or she was working at the time of the crash.
Contact Our Pittsburgh Uninsured Driver Accident Lawyers
If you were involved in an accident with an uninsured driver or are having difficulty recovering the full amount of compensation you need, our experienced Pittsburgh car accident attorneys may be able to help.
Contact us online or call 1-800-777-4081 to schedule a free initial consultation to discuss your case.