New Castle, PA Wrongful Death Attorney
If you've recently lost a loved one in unexpected circumstances in New Castle, Pennsylvania, your family may be able to file a wrongful death lawsuit. Although nothing can make up for such a traumatic loss, a wrongful death lawsuit could hold an at-fault party or parties accountable, helping to provide justice for your loved one and surviving family members.
At Dallas W. Hartman, P.C., our New Castle, PA Wrongful Death Attorneys hope to help families with these claims by making the legal process as simple and stress-free as possible. Find out if you have a wrongful death case today during a free consultation at our local office.
Why Choose Our New Castle Wrongful Death Lawyers
Our team of attorneys have won numerous awards for our outstanding legal services on many different types of personal injury and wrongful death claims.
Our New Castle wrongful death lawyers put the needs of their clients first. We will make sure that your family has everything it requires during this difficult time.
At Dallas W. Hartman P.C., our New Castle wrongful death attorneys work on a contingency fee basis. This means we will not charge for our representation unless we win your case.
How Can Your Family Recover for a Wrongful Death?
Wrongful death means that a fatal injury could have been prevented with a reasonable amount of care and attention by the defendant(s). In Pennsylvania, the legal definition of wrongful death is a death caused by someone else's wrongful act, negligence or unlawful violence. Negligence is the failure to use a proper amount of care, resulting in harm to others.
A wrongful death lawsuit is a measure of justice for surviving family members. While no amount of money equates to the loss of life, a lawsuit can give the decedent a voice in the civil courts, hold a wrongdoer accountable for his or her actions, and reimburse the estate or family members for related losses. We hope that in bringing a successful wrongful death lawsuit, you and your family can find closure and focus on building a brighter future.
How Can a New Castle Wrongful Death Lawyer Help?
No law in Pennsylvania requires you to hire a New Castle, PA personal injury attorney. However, retaining one can have significant benefits for you and your family. Your lawyer can go up against an insurance company or another defendant on your behalf while you try to heal. Your lawyer will have expert knowledge of Pennsylvania's wrongful death laws and how to successfully navigate them. During negotiations, your lawyer will fight for maximum results – even if this means going to trial. Having an attorney by your side can give you some mental peace during the legal process after losing someone you loved.
Do You Have a Wrongful Death Case?
Unexpectedly losing a loved one is always a tragedy, but it is not always grounds for a wrongful death claim. In Pennsylvania, you only have the right to bring a wrongful death cause of action if one or more parties caused or contributed to your loved one's fatal injury or illness. It is up to you or your wrongful death lawyer as the filing party to prove that the defendant is more likely than not at fault for your loved one's death. This burden of proof is known as a preponderance of the evidence and applies to all civil cases. 
You may have a wrongful death case if the following three elements are true:
The defendant had a legal or ethical obligation to keep your loved one free from harm. This is what is known as a duty of care.

The defendant breached or violated the duty of care. The defendant must have done something that a reasonable and prudent party would not have in the same or similar circumstances.

The defendant caused your loved one's fatal injury or illness. There must be proof that your loved one would not have died were it not for the defendant's action or omission.
These are the elements of negligence – the most common grounds on which wrongful death lawsuits are based in Pennsylvania. You will also need to submit proof of your losses for the financial compensation that you are seeking. If you are pursuing compensation for the wages that your loved one would have earned, for example, you must show evidence that establishes a loss of income, such as pay stubs and tax documents. An attorney from Dallas W. Hartman, P.C. can help you find out if you have grounds for a wrongful death lawsuit.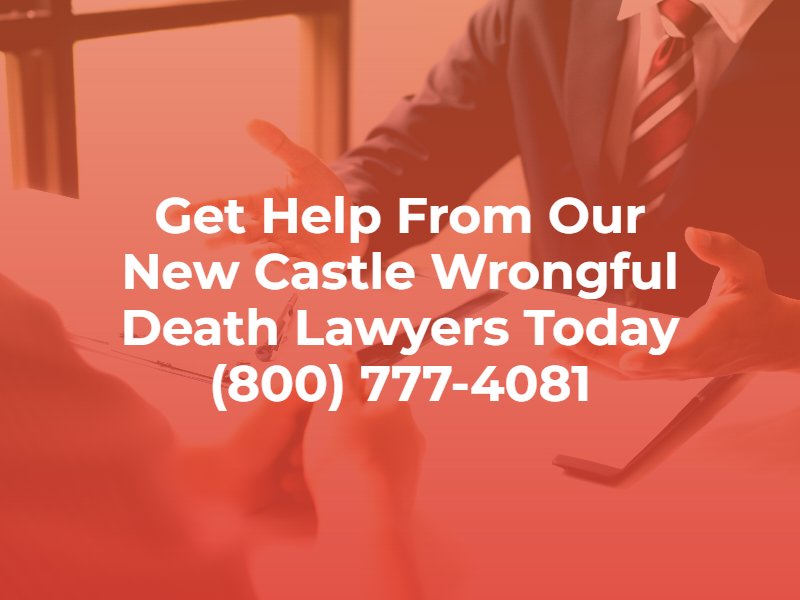 Most Common Types of Wrongful Death Cases in Pennsylvania
Thousands of wrongful deaths occur in numerous ways each year. Although a wrongful death lawsuit could arise out of almost any circumstance in Pennsylvania, certain types of incidents more commonly lead to wrongful death claims than others. At Dallas W. Hartman, P.C., we can help your family with a wrongful death claim involving any of the following common fatal incidents in New Castle:
No matter what type of accident took your loved one's life, it is worthwhile to consult with a wrongful death lawyer about the possibility of filing a wrongful death claim. Filing a lawsuit can hold one or more parties accountable for the death and give your family the closure that it deserves. We can review your situation for free to help you determine your legal options.
Who Can File a Wrongful Death Claim in Pennsylvania?
Even if you were close to the person who passed away, you will only have the right to file a wrongful death claim if you are the correct party to do so under state law. Unlike many other states, Pennsylvania does not allow family members to file wrongful death lawsuits themselves. Pennsylvania law states that only a personal representative or executor of the deceased individual's estate can file a lawsuit. If your loved one did not leave behind a will naming a representative – which is common in wrongful death cases due to the unexpected nature of the death – the courts can appoint one.
If, however, this individual does not file within six months of the date of the death, any beneficiary may file a claim on behalf of all beneficiaries. Common beneficiaries include a surviving spouse, surviving children and the surviving parents of a deceased child. If you are not sure whether you have the right to file a wrongful death lawsuit under Pennsylvania law, we can review the case for free.
What Damages Are Available For A Wrongful Death Case in Pennsylvania?
The purpose of filing a wrongful death claim is, in part, to make surviving family members or the estate whole again, or to restore it to the position it would have been in financially had the death not taken place. The damages (financial compensation) that are available to surviving family members can include medical bills, funeral and burial costs, lost income, lost inheritance, lost household services, lost companionship and society, and the cost of estate administration. Under state law, damages collected in a wrongful death case will go to surviving beneficiaries first, then to the estate.
Is There a Time Limit to File a Pennsylvania Wrongful Death Claim?
Yes. Pennsylvania has a law known as a statute of limitations that gives a plaintiff no more than two years from the date of the decedent's death to file a wrongful death lawsuit, in most cases. With limited exceptions, if the lawsuit is not filed within the two-year window, the courts will refuse to hear the case.

Contact a New Castle, PA Wrongful Death Attorney Today
If you are considering a wrongful death lawsuit in Pennsylvania, contact our New Castle wrongful death attorneys at Dallas W. Hartman, P.C. to schedule a free consultation. We can help you navigate confusing laws and statutes, including the burden of proof, evidentiary requirements, filing rules and the statute of limitations. We hope that our legal services can provide your family with answers, justice and some closure after a devastating loss. Call (800) 777-4081 or contact us online to consult with our attorneys today.