New Castle, PA Birth Injury Lawyer
Mothers and babies require prudent, attentive and high-quality medical care throughout the birthing process. Anything less increases the risk of serious issues, including preventable birth injuries. If a doctor, nurse, OBGYN, surgeon or another health care professional fell short of the accepted standards of care in the medical industry and this caused your child's birth injury, you have the right to take legal action. The New Castle personal injury lawyers at Dallas W. Hartman, P.C. can help.
Why Choose Dallas W. Hartman P.C.?
We have experienced Pennsylvania personal injury attorneys who have dedicated their lives to pursuing justice and financial compensation on behalf of individuals and families throughout Pennsylvania.
Our team of attorneys have achieved outstanding past case results.
Our Pennsylvania birth injury lawyers have an in-depth understanding of this complicated practice area. We have knowledge of both the legal and medical sides of a medical malpractice case. We can also hire qualified experts to testify on your behalf.
The New Castle birth injury attorneys at our law firm work on a contingency fee basis, meaning they will not charge for their services unless they succeed in winning financial compensation for your losses.
Birth Injuries vs. Birth Defects
Birth injuries are traumatic injuries sustained by a baby during or shortly after labor and delivery. A birth defect, on the other hand, is a problem or abnormality that occurs while the baby is still developing in utero. Examples of birth defects are a cleft palate, clubfoot, underdeveloped limbs, and spina bifida. Examples of birth injuries include:
Anoxic/hypoxic brain injuries and related conditions, such as cerebral palsy
Brain damage from traumatic or acquired brain injuries
Brachial plexus injuries, shoulder dystocia and Erb's palsy
Hypoxic-ischemic encephalopathy
Cuts, scrapes, bruises or lacerations from improper use of birth-assisting tools
Bone fractures and spinal cord injuries
Nerve damage and facial paralysis
Undiagnosed jaundice and kernicterus
Birth defects occur due to unpredictable issues during the baby's development. Birth injuries, however, stem from a physician's preventable violation of the medical industry's standards of care. For this reason, parents can often file medical malpractice claims for birth injuries.
Birth Injury Cases Are Challenging in Pennsylvania
A birth injury case falls under the umbrella of the most complicated type of personal injury claim in Pennsylvania: a medical malpractice lawsuit. Medical malpractice is a difficult area of civil law because it involves highly complex and nuanced issues within the medical field – matters that most laypeople (including juries) cannot understand without assistance from medical experts. 
Most states have a separate set of rules and laws regarding medical malpractice claims. This is due to a high number of fraudulent medical malpractice claims, as well as to protect health care providers from going bankrupt from an inordinate number of settlements. The best way to handle a birth injury case in New Castle is by contacting an attorney to represent you. Our New Castle medical malpractice attorney will know Pennsylvania's medical malpractice laws and how to properly navigate them in your specific case.
How Do You Prove a Birth Injury Case?
If your family wishes to secure financial compensation for your child's birth injury, you must meet the burden of proof as the plaintiff or filing party. The burden of proof in a medical malpractice claim is a preponderance of the evidence. This means enough clear and convincing evidence to show that the medical provider or defendant caused your child's birth injury through an act of negligence with at least a 51 percent certainty.
Medical negligence is the failure of a health care provider – such as an OBGYN or surgeon – to meet the accepted standards of patient care within the medical industry. Proving negligence or malpractice requires evidence of the following four elements:
The defendant owed you a duty of care as your official doctor or health care provider during your pregnancy, labor and/or delivery. There must be proof that a doctor-patient relationship existed between you and the defendant at the time of the incident.

The defendant breached the standard of care. You need evidence that the defendant breached, or failed to fulfill, the duties required by him or her as your medical provider. In other words, the doctor did something a reasonable and prudent professional would not have in the same or similar circumstances.

The defendant's lack of proper care was the direct cause of the birth injury. Your specialized Pennsylvania medical malpractice lawyer must establish that your child's birth injury would not have occurred but for the negligence or improper treatment performed by the defendant.

Your family suffered compensable losses because of the breach of the standard of care. You will need to prove specific losses connected to the medical malpractice, such as your child's physical injuries, disability, medical bills, pain and suffering, or diminished quality of life.
Your New Castle birth injury lawyer can help you prove your case by gathering and presenting strong evidence. This may include your medical records, your child's medical records, notes taken by your doctor or nurse, administrative records, medication and prescription documents, x-rays and lab reports, treatment plans, medical expert testimony, eyewitness statements, and photographs and video footage.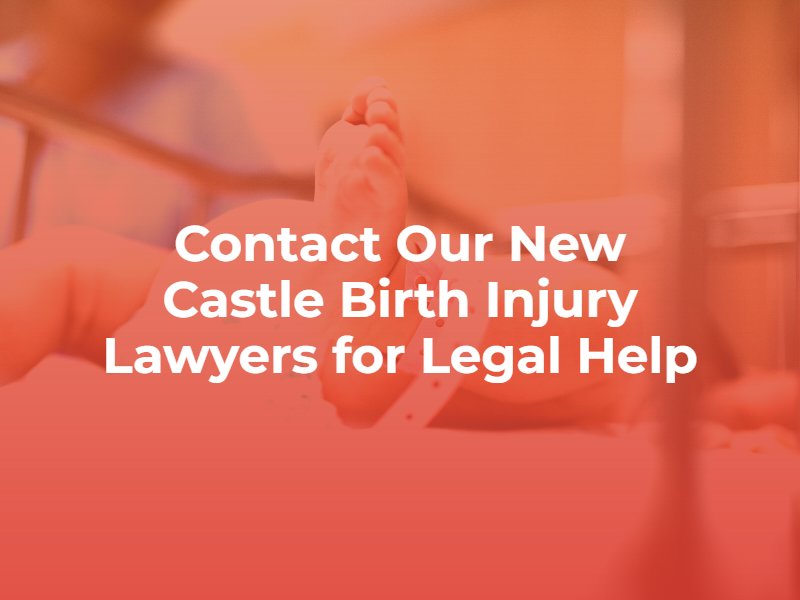 What Is Pennsylvania's Certificate of Merit Requirement?
Pennsylvania has a rule that only applies to medical malpractice cases known as the certificate of merit requirement. Under 231 Pennsylvania Code Section 1042.3, the filing party or plaintiff's attorney must file a signed certificate of merit. This certificate states that an appropriate licensed professional has given a written statement that there is a reasonable probability that the defendant fell outside of the acceptable professional standards of care and that this brought about the plaintiff's harm.
The certificate of merit rule requires a statement made by an appropriate professional. In a birth injury case, this could be a doctor, OBGYN or another medical professional with relevant experience and expertise in pregnancy, labor or delivery. You or your lawyer must file the certificate of merit along with your initial complaint or within 60 days after you file your complaint. A Pennsylvania birth injury attorney can help you obtain and submit the written statement as well as the certificate of merit to initiate your lawsuit in New Castle.
What Should I Do if I Think My Baby Suffered a Birth Injury?
If you believe your baby suffered a birth injury due to the careless, reckless or wanton acts of a medical practitioner in New Castle, PA, start gathering as much information as possible. Request copies of you and your child's medical records, for example, and take photographs of the injuries.
Write down a description of what you can remember from the birthing process, including the names of your doctors and nurses. Follow your pediatrician's treatment plan exactly during your child's recovery. Before you start the legal claims process, contact a birth injury attorney at Dallas W. Hartman for a free consultation. A skilled New Castle birth injury attorney can give you trustworthy advice about how to move forward.
Time Limits on Pennsylvania Birth Injury Cases
It is important not to delay in taking legal action if you believe your child is the victim of a birth injury in Pennsylvania. The state has a law called a statute of limitations that limits your right to file to a certain time period. In Pennsylvania, you must file a birth injury lawsuit within two years of the date that you discover or reasonably should have discovered that your baby suffered an injury due to medical malpractice. Alternatively, if your child wishes to file a suit on his or her own, he or she has until age 20.
Contact a Birth Injury Lawyer in New Castle
At Dallas W. Hartman P.C., our team of attorneys understand that a preventable birth injury can leave your child with long-lasting medical conditions, such as cerebral palsy, brain damage, seizure disorders, and scarring or disfigurement. If a health care practitioner had the ability to prevent your child's birth injury but carelessly failed to do so, your family may be entitled to financial compensation.
Although no amount of money will ever make up for your child's birth injury, it can help your family move forward. Discuss your personal injury claim in detail with one of our New Castle, Pennsylvania birth injury lawyers today. Contact Dallas W. Hartman P.C. for a free consultation.