New Castle, PA Premises Liability Attorney
A premises liability case can arise when a property owner fails to keep visitors and guests reasonably safe, leading to an injury. If you or a loved one was injured on someone else's property, such as in a slip and fall accident or dog attack, the property owner may be financially responsible for your losses.
Find out if you have grounds for a case today. Request a free consultation with the New Castle personal injury attorneys at Dallas W. Hartman P.C. We will fight for you.
Common Causes of Premises Liability Accidents
Premises liability cases center on the idea that property owners are legally responsible for maintaining safe premises. The owner or controller of a property, including a landlord, has a legal obligation to maintain safe premises. If the owner fails to fulfill this obligation, he or she will be liable for related accidents and injuries.
Some of the most common causes of premises liability accidents in New Castle are:
Wet floors
Ice or snow
Uneven surfaces
Cluttered walkways
Unsafe elevators/escalators
Low lighting
Defective staircases
Falling objects
Negligent security
Dangerous dogs
Swimming pools
Unsafe workplaces
Our New Castle personal injury attorneys have years of experience successfully litigating premises liability accidents throughout Pennsylvania. We handle cases involving all types of property hazards and defects, as well as all types of injuries.
Negligence & Duty of Care for Property Owners
To hold a property owner accountable for your injury, you or your attorney must prove negligence. If a property owner is negligent, he or she has been careless in the maintenance of the property and this has led to harm or injury to others.
Four elements make up negligence in premises liability law:
The property owner had a legal obligation to keep you safe as a lawful visitor. This obligation only applies to invitees and licensees, not trespassers (unless the trespasser is under 18).
The property owner acted in a way that breached his or her duty of care, such as knowing that a dangerous condition existed on the property yet doing nothing to correct the problem.
The property owner's careless failure to maintain a safe property or fix a defect caused the plaintiff's accident, injury or illness.
The plaintiff suffered real and specific losses in the accident for which he or she can seek compensation.
In premises liability law, your lawyer must establish these elements as more likely to be true than not true (a preponderance of the evidence) using clear and convincing evidence for you to recover damages for losses.
Time Limits for Premises Liability Cases
Do not wait to consult with an attorney about a potential premises liability case in Pennsylvania. With rare exceptions, Pennsylvania's statute of limitations (Pennsylvania Cons. Stat. Title 42 section 5524), gives claimants just two years to file this type of case. If you miss your statute of limitations, you will forfeit the right to hold a property owner financially responsible.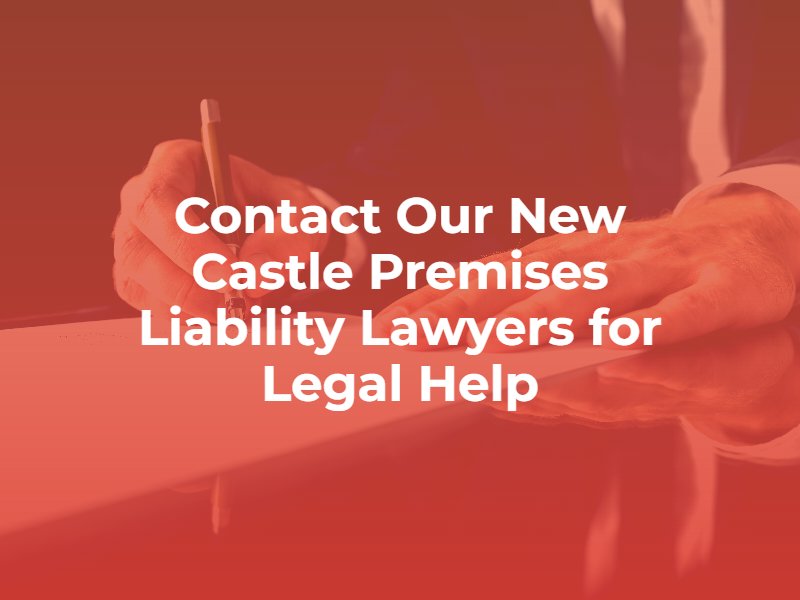 Recovering Compensation for Premises Liability
If you have grounds to hold a property owner accountable for an accident, you may be eligible to recover financial compensation through that party's insurance provider. Available compensation can include:
Medical damages for past and future health care needs
Ongoing care for a temporary or permanent disability
Lost wages and lost future capacity to earn
Physical pain and suffering
Emotional distress or mental anguish
Permanent scarring or disfigurement
Punitive damages, if the property owner was grossly negligent
Achieving an insurance settlement or jury verdict for your premises liability case could help you and your family move forward after a serious accident.
Get Help From a New Castle Premises Liability Lawyer
The best way to protect your legal rights after an injury on someone else's property is by hiring a New Castle, Pennsylvania premises liability attorney. At Dallas W. Hartman P.C., an attorney will have the knowledge, skill and experience to help you hold a property owner responsible and obtain the compensation you deserve.
Discuss your case in more detail with an attorney from Dallas W. Hartman, P.C. today. Contact us to request a free initial consultation online 24/7 or by calling (800) 777-4081.