New Castle Medical Malpractice Lawyers
Medical negligence describes any situation in which a doctor or other medical professional fails to meet the acceptable standard of care in a situation or fails to competently discharge his or her duties and harms a patient. Medical malpractice claims generally follow the same rules and framework as personal injury claims with a few exceptions. If you have suffered an injury you believe happened due to medical mistakes, know what to do next to secure compensation for your losses. Speak to our medical malpractice attorneys at the law firm of Dallas W. Hartman P.C. in New Castle to find out what you legal options are.
Why Do You Need a Medical Malpractice Lawyer in New Castle?
Medical malpractice is one of the most complicated types of personal injury claims. You may not be able to navigate the confusing paperwork, complex laws and burden of proof without help from a lawyer. Hiring a medical malpractice attorney in New Castle can have many benefits:
In-depth knowledge of the legal system
Answers to your questions and concerns
Professional resources to strengthen your claim
Connections to investigators and medical experts
Aggressive negotiation tactics
Efficiency that saves you time and money
The ability to represent you at trial
If you are not sure whether you need to hire a medical malpractice lawyer, discuss your specific case with an attorney for free. Our lawyers can listen to your story and carefully review the elements of your case to determine if it can benefit from legal representation.
Do You Have a Medical Malpractice Case?
"Standard of care" refers to the acceptable method of treatment for the patient's condition. The medical community generally refers to proven techniques for treating various illnesses and ailments. If a doctor or other medical professional deviates from the generally accepted method without justification, it often constitutes malpractice.
Once the plaintiff proceeds to the lawsuit stage, there are several elements of malpractice he or she must prove to succeed with their New Castle personal injury attorney. Generally, these include:
Proof of relationship. The plaintiff must be able to supply evidence that an official doctor-patient relationship existed between the plaintiff and defendant. This means the doctor agreed to treat the patient, and the patient agreed to the doctor's treatment.
Negligence. Next, the plaintiff must show the court how the doctor or other medical professional was negligent. This typically involves demonstrating how the defendant deviated from the acceptable standard of care for the given situation.
Causation. The plaintiff can only sue for the direct results of the defendant's negligence. Therefore, the plaintiff must show the court that his or her damages resulted from the defendant's negligence and not some other cause. This is often difficult in medical malpractice cases because symptoms of some conditions can mimic the symptoms of other conditions, and it can be difficult to ascertain when certain conditions manifested.
Actual harm. The plaintiff must be able to prove the defendant's negligence caused some type of injury or other damage. A patient cannot sue for malpractice if he or she suffered no harm.
Medical Malpractice vs. Negligence
Medical malpractice is not the same as medical negligence. Although a patient may have grounds for a medical malpractice claim for both types of wrongdoing, the elements of proof differ. By definition, medical malpractice is the knowing or intentional breach of a standard of care. If a physician commits medical malpractice, he or she is aware of the accepted standard of care and knowingly fails to achieve it despite being aware of potential harm to a patient.
Medical negligence, on the other hand, is an unknowing or unintentional breach of the standard of care. A doctor or nurse who is guilty of medical negligence may not realize he or she failed to fulfill the required duty of care. The health care practitioner may make an accidental mistake that a prudent person would have avoided in the same circumstances, resulting in injury or harm to a patient. Malpractice involves intent, while negligence does not. Both situations, however, could make you eligible for compensation.
Proving Medical Malpractice
A plaintiff who wishes to file a lawsuit must typically file a claim with the presiding medical review board before proceeding with a lawsuit. Generally, these review boards consider the evidence and witness testimony to determine whether the plaintiff has a valid claim of malpractice. The deciding factor is generally whether the defendant upheld an acceptable standard of care in the given situation. Our medical malpractice lawyers understand the common types of medical malpractice. These medical errors include:
Failure to diagnose. This describes a doctor's failure to accurately diagnose a patient's condition.
Delayed diagnosis. Doctors must work diligently to provide their patients with timely diagnoses.
Medication error. Prescribing the wrong dosage or medication to which the patient has an allergy is dangerous.
Anesthesia error. Anesthesiologists must consider a patient's medical status and drug allergies before administering anesthesia.
Improper treatment. This could describe deviating from the accepted standard of care without justification.
Failure to warn. Patients have a right to "informed consent," or to know the risks of any potential treatment before agreeing to it.
Gross negligence. This describes a serious error that even an untrained individual could have avoided.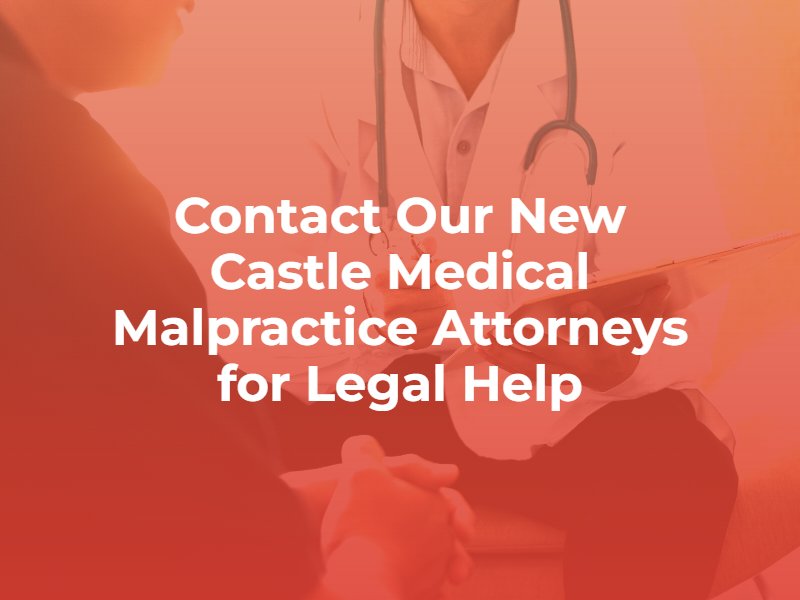 What Compensation Is Available for Medical Malpractice in New Castle, PA?
Medical malpractice can have a significant impact on an injured patient. A patient affected by medical malpractice may be unable to heal from his or her illness or injury due to a lack of proper medical care. Medical malpractice can also cause additional injuries, such as internal bleeding or nerve damage. If your lawyer succeeds in bringing a medical malpractice claim against a physician or health care provider on your behalf, you could recover compensation for any related losses:
Past and future medical costs
Additional surgeries
Rehabilitation or physical therapy
Permanent disability
Live-in care
Pain and suffering
Mental anguish
Lost wages
Lost future capacity to earn
Lost quality of life
Legal fees
Punitive damages
You can file a medical malpractice claim to seek both economic (tangible) and non-economic (intangible) damages in Pennsylvania. You may need an attorney to help you understand the full value of your claim, as an insurance company's evaluation may fall short of the amount you deserve. A Pennsylvania personal injury lawyer can help you calculate and prove damages using evidence such as medical records, pay stubs and expert testimony.
What Is the Statute of Limitations for Medical Malpractice in New Castle, PA?
A statute of limitations is a legal deadline for filing a claim. Criminal and civil law both have statutes of limitations. Pennsylvania's statute of limitations (Statutes of Pennsylvania Section 5524) on medical malpractice claims is two years from the date of the malpractice event. If you do not discover your injuries until after the date of the actual act, however, the clock will not start ticking until the date of injury discovery or diagnosis.
There is a second statute of limitations in place in Pennsylvania known as the statute of repose. The statute of repose gives patients up to seven years from the alleged act of medical malpractice to file a related lawsuit. If you do not file your lawsuit within this time, you may lose the right to seek compensation, even if it takes you longer than seven years to discover your injury. It is important to discuss your statute of limitations with a medical malpractice lawyer in New Castle to avoid missing your time limit.
Our New Castle Medical Malpractice Attorneys Help You Win Your Case
Patients in Western Pennsylvania who have suffered physical pain, emotional distress, additional medical bills, or have been faced with a wrongful death can sue for these and any other damages resulting from malpractice. The Pennsylvania medical malpractice attorneys at Dallas W. Hartman, P.C. have experience handling complex medical malpractice cases in New Castle and throughout Lawrence County, so call our law office at 1-800-777-4081 to schedule a free consultation. You can also contact us online for more information about our firm and the cases we have handled in the past.