Mercer Workers Compensation Attorney
Mercer County, Pennsylvania, has a dynamic workforce, with specialties across many different industries. Historically, Mercer County was an industrial manufacturing hub. Over time, manufacturing has decreased and made way for other industries such as tourism, retail, health services, and technology. There are 50,055 employees who currently call Mercer County their home. Dallas W. Hartman P.C. is proud to offer workers' compensation assistance to every employee in the region.
Why Choose Our Firm?
If you have been injured on the job, we offer personalized legal services with your goals and needs in mind. We will guide you through each step of the claims process.

We have over 30 years of experience handling many different types of personal injury and workers' compensation cases in Mercer County and throughout Pennsylvania.

Our attorneys operate on a contingency fee basis. This means you won't pay your Mercer workers' compensation attorney unless we secure positive results for your claim.
About the Pennsylvania Workers' Compensation System
In Hermitage, Grove City and throughout Mercer County, almost every employer has to carry workers' compensation insurance coverage by law. This insurance gives employees the ability to request financial recovery for injuries they sustain at work or while performing job-related tasks. This includes all occupational injuries and illnesses that do not stem from the employee breaking the law or self-inflicting harm. To apply for workers' compensation insurance benefits, an injured employee must take the following steps:
Report your injury to the employer or supervisor immediately. There are strict time limits for reporting a work-related injury to a supervisor, so do so as soon as possible. Tell the supervisor the time, date, and location of your injury.
File your claim with the Bureau. Your employer should file a claim on your behalf after you report your accident. If your employer chooses to deny your claim, you have the right to take the claim to the Bureau for a hearing instead.
Go to the doctor for an official check up. Seek treatment for your injuries right away. Keep all records relating to your injury, including X-rays and treatment plans. The insurance company may need these files to support your claim.
If the Bureau accepts your claim, you should receive your first workers' compensation check within a month of filing. The check will cover all accident-related medical expenses, as well as two-thirds of your average missed wages if your injury kept you home from work. Sometimes, the Bureau will deny or unreasonably delay a workers' compensation claim in Mercer County. If this has happened to you, contact our Mercer County workers' compensation lawyers.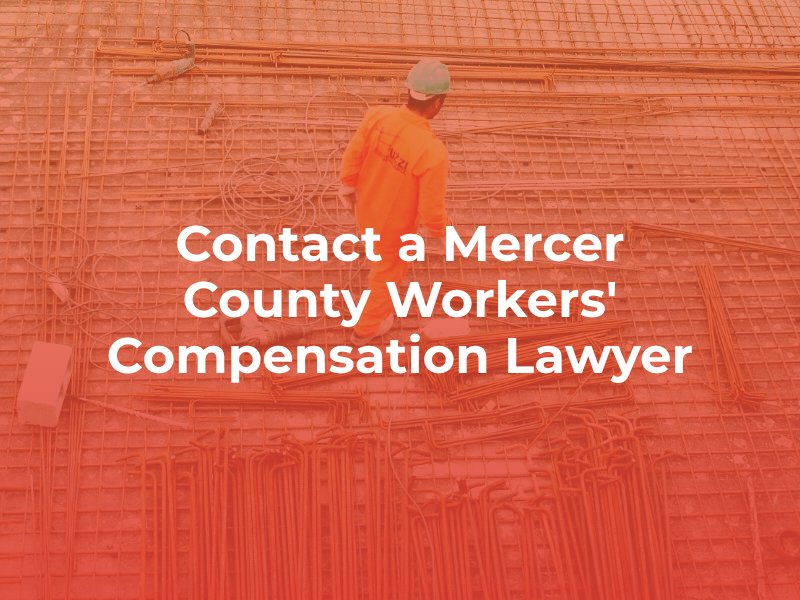 When Is an Injury Covered Under Workers' Compensation?
The Pennsylvania Workers' Compensation Act covers almost all injuries and illnesses that arise within the course and scope of a worker's employment. As long as the injury is connected to the worker's job or job-related tasks, it will be covered under the workers' comp system. Our Mercer County car accident lawyers can help handle any motor vehicle related accidents while on the job. This is the case regardless of the employee's previous physical condition or pre-existing injuries.
Pennsylvania law requires most employers to carry workers' compensation insurance coverage. This insurance will pay for injuries suffered by employees, not independent contractors. Some employees are exempt from this coverage, however, such as federal employees, railroad workers, longshoremen and domestic servants. 
If you are not an exempt employee and your employer carries workers' compensation insurance, you can qualify for benefits after suffering any type of injury while performing job-related tasks. You are covered for the entire period of your employment, no matter how long or short you've been working for a company. 
Types of Workers' Compensation Injuries Our Attorneys Represent
At Dallas W. Hartman P.C., our workers comp lawyers in Mercer County bring together decades of legal experience to benefit our clients. We understand how all types of injury cases work and will stop at nothing to pursue the case results that our clients deserve. You can come to us for high-quality legal services after suffering any type of injury or illness at work in Mercer County, including: 
Broken bones

Lacerations and punctures

Soft-tissue injuries

Sprains and strains

Permanent disabilities

Repetitive motion or overuse injuries

Occupational illnesses

Harmful exposure

Hearing or sight damage

Psychiatric injuries
If you or a loved one was diagnosed with any type of injury from a workplace accident, contact us for a free case review. We will give you advice as to what to do next, such as where to go for medical care and how to file a workers' compensation claim in Mercer. You may be eligible for workers' comp regardless of the nature and severity of your work injury.
What Compensation Is Available After a Work Injury in Pennsylvania?
If you qualify for workers' compensation after a work injury in Mercer County, your benefit checks could include payment for six different types of losses. The amount of your payment and types of coverage will depend on the circumstances of your claim, such as the severity of your injury. The available benefits include:
Temporary total disability benefits: if you are unable to return to work because of your injury, you could receive benefits for your lost wages.

Partial disability benefits: if you can return to work in a partial capacity, you may qualify for partial disability benefits for the difference between what you used to make and what you make now.

Specific loss benefits: compensation for the loss of a body part, permanent scarring or disfigurement, or loss of hearing or vision.

Medical expenses: benefits to pay for any required medical care that you need because of your condition, both past and future.
Travel costs: reimbursement for travel costs if your medical treatment takes you out of Mercer County.
Death benefits: funeral reimbursement, lost wages, medical bills and other compensation for losses connected to the death of a loved one on the job.
If you have grounds to file a personal injury claim after a preventable accident at work, you may qualify for additional types of compensation. Our Pittsburgh wrongful death attorneys can work with you to recover compensation after the death of a loved one in a workplace accident. You may be eligible for pain and suffering damages, for example, if you can prove that someone caused your injuries.
What Can a Mercer County Workers' Compensation Attorney Do for You?
Contact our lawyers at any time after a workplace injury. Our Mercer workers' comp attorneys can help you understand the complexities of a workers' comp claim in Pennsylvania and maximize your odds of a successful filing process the very first time. Our workers' compensation attorneys in Mercer County can also break down the compensation you qualify for, and explain a benefit check to you if need be. A Mercer workers' comp lawyer is particularly helpful if your employer does not carry workers' compensation insurance, or if the insurance company has denied your claim.
The Mercer County personal injury attorneys at Dallas W. Hartman P.C. have handled thousands of cases in Pennsylvania. We have decades of combined experience with the state's workers' compensation and personal injury laws. If you have an insurance bad faith claim on your hands, we can help you go up against the company to fight for the compensation you deserve. If your accident involved someone else's negligence, a personal injury claim may be the right move. Contact a lawyer today about your case in Hermitage or Grove City in a free consultation.