Butler County Car Accident Lawyer
Automobile accidents are so commonplace, that we often think of them as just a part of life. Almost all crashes, however, are due to someone's negligence regarding their own safety and the safety of those with whom they share the road. When an injury results from an automobile accident, the effects can be devastating and life-changing for those injured in the wreck and for their families.
Why Dallas W. Hartman Is the Right Fit for Your Butler County Car Accident Case
We have proven our capabilities in the field of car accident law with

record-setting verdicts

, numerous awards won and

hundreds of happy clients

.

Our car accident lawyers in Butler County offer personalized legal services, tailored to each client's individual needs, case and goals.

We accept most car accident cases on a contingency fee basis, meaning you won't pay your lawyer if he or she does not succeed in recovering compensation on your behalf.
The Terrible Statistics
According to PennDot, there were over 1,800 accidents in Butler County in 2016, the year for which we have the most recent data. That amounts to an average of five accidents every day. Of those accidents, 652 resulted in an injury to at least one person involved and tragically, 28 people died in Butler County due to auto accidents. While these numbers have seen a steady decrease in recent years, the hundreds hurt in accidents still have to deal with the consequences.
Common Car Accident Injuries
Car accidents are one of the most common causes of unintentional injuries and related deaths in Pennsylvania. The forces exerted upon the human body in a car accident can cause a wide range of physical injuries – especially to vulnerable populations, such as children and pedestrians. Car accidents can also lead to psychological trauma and emotional damage. Common types of car accident injuries include:
Bone fractures

Head injuries

Lacerations

Muscle and soft-tissue injuries

Internal damage

Losses of limb

Post-traumatic stress disorder

Fatal injuries or wrongful death
At Dallas W. Hartman, P.C., we represent clients with all types of car accident injuries – including permanent or catastrophic injuries. We can also help if you lost a loved one in a fatal car accident in Butler County. Our wrongful death attorneys in Pittsburgh, PA can guide your family through the financial recovery process from beginning to end.
Why Do Car Accidents Happen?
The most common cause of an auto accident is speeding. While most people only think of driving over the posted speed limits, any speed that is too fast for conditions can cause an accident. Sadly, for many people, that driver's excessive speed can lead to months, years, or a lifetime of pain and suffering.
Despite efforts in recent years to educate drivers on the dangers of distracted driving, and to pass laws against talking or texting on a phone while driving, many accidents still occur because the driver decided not to focus on the road and caused an accident. It is a bitter pill for an injured person to swallow when they learn that their injury may not have happened if the other driver had merely paid more attention to the road and less to their phone or radio.
Drunk driving continues to be a menace to our streets and safety. The attorneys of Dallas W. Hartman P.C. believe that no one should have to suffer for someone's decision to drink and drive. We will fight to see that you get the maximum compensation possible for any case that involves negligence.
What Compensation Are You Entitled to After an Automobile Accident?
A car accident can result in many expenses for the average victim, such as necessary medical care and vehicle repairs. Filing an insurance claim or car accident lawsuit in Butler County can enable your family to recoup the costs of the crash – allowing you to move forward with greater peace of mind and financial stability. Although every case is unique, many victims are entitled to financial compensation for the following damages:
Vehicle repairs or replacement

Necessary medical treatments

Lost income and capacity to earn

Pain, suffering, and emotional distress

Punitive damages
A lawyer from Dallas W. Hartman, P.C. can help you create a list of your damages to submit to an insurance company. Then, we can help you demand maximum compensation using aggressive legal tactics. Most car accident cases in Pennsylvania achieve settlements. If an insurance company is refusing to deal with you fairly, however, and offer an adequate settlement, our lawyers have the power to take the case to trial. We will do what it takes to achieve justice on your behalf.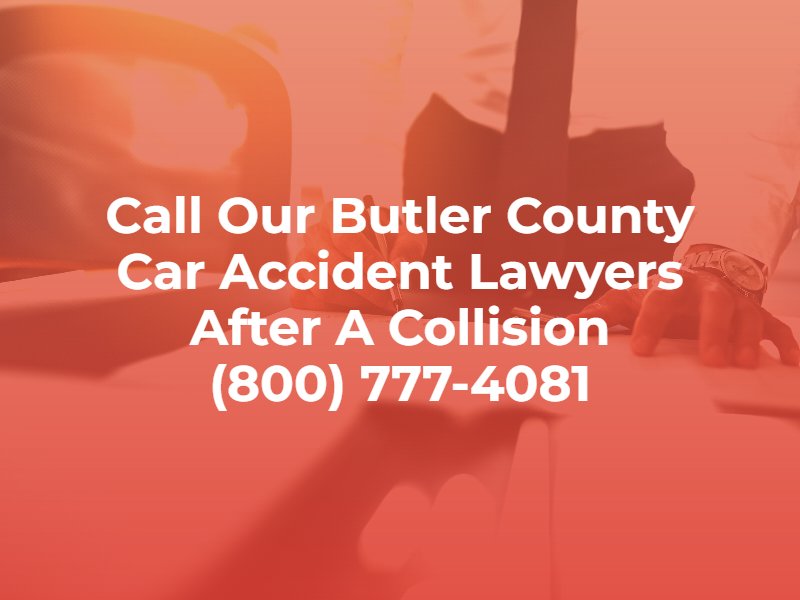 How Is Fault Determined in a Car Accident Case in Pennsylvania?
Fault and liability (financial responsibility) for a car accident depend largely on the insurance laws in the state. Pennsylvania has a unique car insurance system. It is one of only 12 no-fault states, meaning each driver's car insurance coverage pays for his or her losses, regardless of fault for the crash. All drivers are required to carry at least $5,000 in medical payment coverage – insurance to pay for the policyholder's medical bills after a collision. 
With this system, it is only possible to file a lawsuit against the at-fault driver in limited circumstances; generally, if the victim's injuries are serious or permanent. Pennsylvania is also a choice no-fault state, where drivers can opt-out of the no-fault system. If they choose to do so, there is no limit on the ability to file a lawsuit after a car accident. Your rights after a car accident in Butler County depend on the type of insurance involved, as well as the severity and extent of your injuries. 
If you are found to be partially responsible for a car accident upon investigation, this can also affect your financial recovery. Pennsylvania is a modified comparative negligence state, meaning your recovery will be reduced by the percentage you are found to be at fault. If you are determined to be 51 percent or more at fault, however, you will lose the ability to retrieve compensation entirely. 
Why Do I Need a Butler County Car Accident Lawyer?
We are your Butler personal injury lawyers because we believe you deserve someone to represent you who has the experience to get you the compensation you need. It is a point of pride that our Butler car accident attorneys have the most experienced in the type of law you need after an injury. We believe that our neighbors in Butler County should have the best possible representation and should have attorneys ready to fight to see that they get the best possible settlement.
Should your case require going to trial, our car accident lawyers in Pittsburgh will be prepared from day one to see that your case is ready. Where some lawyers seem content to accept a quick settlement offer and move on to the next case, we won't rest until we have achieved the best outcome for your case.
Schedule a Free Consultation
Contact our attorneys today and let us set up a free, no-obligation consultation for you as soon as possible. There is no charge to you unless we are successful in getting a settlement on your behalf. At Dallas W. Hartman P.C., our skilled personal injury attorneys in Butler County are committed to achieving fair compensation for our clients, and our record of success shows that we can get you fair compensation as well.