Butler County Truck Accident Attorney
If you or a loved one gets involved in a truck accident in Butler, you may be facing an uphill battle to recover. The trucking company may make it difficult for you to obtain fair financial compensation for your serious injuries, on top of sorting through property repairs, a rental vehicle, your medical bills and other aspects of an accident claim. At Dallas W. Hartman P.C., our Butler truck accident attorneys can take over your case to allow you to focus on healing. We will handle legal matters with exceptional customer service and attention to detail. 
Why Truck Accident Victims Choose Dallas W. Hartman P.C.
Our personal injury lawyers have years of experience handling truck accident cases in Pennsylvania. We understand what each case needs to succeed.

We have been dedicated legal representatives to clients in Butler and the surrounding area for over 25 years. We have six conveniently located office locations.

Our Butler truck accident attorneys accept clients on a contingency fee basis. This means we won't charge for your injury case unless we win.
How You Can Benefit From Hiring a Truck Accident Attorney in Butler
You've already been through enough as a truck accident survivor. Entrusting your injury claim to an experienced attorney can make the recovery process easier for you and your family. A law firm can match a trucking company's resources and go up against its aggressive legal team for you. This can lead to better results, which your family may rely on to pay for your related injuries. A lawyer will investigate the truck accident, collect evidence of fault and negotiate for optimal results against powerful adversaries on your behalf.
Elements That Make a Truck Accident Case Unique in Pennsylvania
The enormous size and weight of a large truck in comparison to a passenger car can result in catastrophic-level injuries for victims – generally, not to the truck driver but those in the smaller car. Catastrophic injuries are those that have a significant or permanent impact on the victim, such as a brain injury or paralysis. Injuries of this caliber can make it more important to hire an attorney, as you are most likely facing months or years of expensive medical bills and need a fair case outcome.
A truck accident case in Butler also comes with unique legal issues and evidence. Trucking companies must obey federal safety laws, for example, such as limits on how many hours a truck driver can drive without taking a break. If a trucking company violated any of these laws, this could be evidence of fault for your accident. The evidence available to establish fault could also include the truck's black box. This is a data recorder that is not present in typical car accident cases but can contain key information about the truck and the driver's actions leading up to the crash.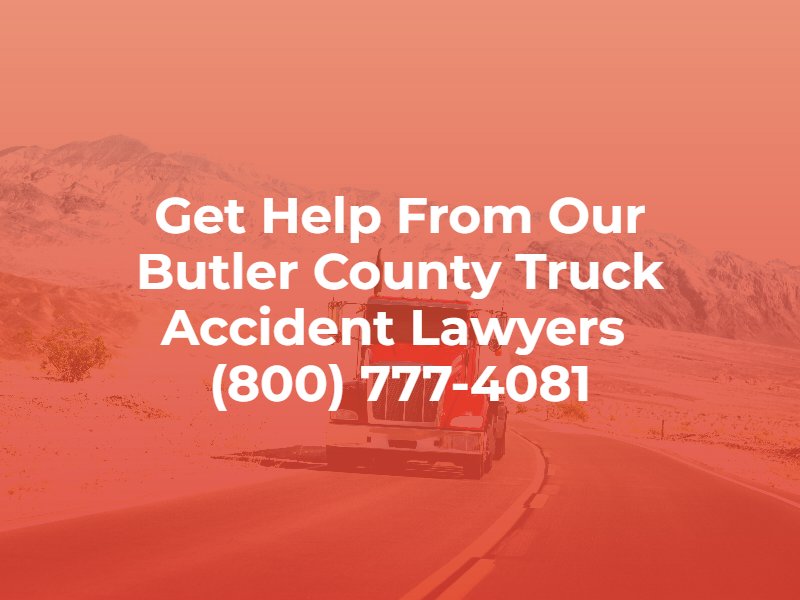 What to Expect From Our Pennsylvania Personal Injury Law Firm
At Dallas W. Hartman P.C., we know that our clients suffer much more than just financial losses in devastating truck accidents in Butler. These disasters change lives. Our goal is not only to achieve maximum financial compensation for your truck accident case but to help you achieve justice and take back your life. Our Butler County personal injury attorneys are passionate about holding trucking companies responsible for their own wrongful acts, as well as the carelessness of their employees and truck drivers. We will do this through tailored legal services, aggressive negotiations and one-on-one client care.
Schedule a Free Consultation With Our Butler County Truck Accident Attorney
If you were recently involved in a truck accident, contact our personal injury lawyers in Butler County to find out how we can help you. We find creative solutions to each client's specific problems. Our Butler injury attorneys can help you rebuild your life as much as possible. Start your case with a free consultation. Request yours at (800) 777-4081 or by sending us an online message today.