Butler County Wrongful Death Attorney
There may be no greater tragedy than losing loved ones before their time. Learning that their death was caused through the negligence or carelessness of someone else can only make that loss all the more bitter. For over 30 years, the Pennsylvania personal injury attorneys of Dallas W. Hartman, P.C. have sat with people in Butler County just like you who have lost a loved one and want answers. If you want justice for your loved one, our attorneys are here to help.
Why Choose Our Butler County Wrongful Death Lawyers?
We have collected multiple

record-setting settlements and verdicts

on behalf of our past clients, including a

$2 million award

for the widow of a fallen corrections officer.

At Dallas W. Hartman, our Pennsylvania wrongful death lawyers have won numerous awards and accolades for their exceptional work.

Our Butler County wrongful death lawyer will put your family's needs first in every decision that he or she makes.

We truly care about our clients and give back to our community in Pennsylvania regularly.

Our wrongful death lawyers in Butler County operate on a contingency fee basis. This means you won't pay us anything unless you win your case.
Defining Wrongful Death
In Pennsylvania, the definition of wrongful death according to 42 Pa. CSA Section 8301 is the death of an individual caused by another party's wrongful act, neglect, unlawful violence or negligence. Wrongful death can be caused by a motor vehicle accident, bad fall, workplace incident, premises liability accident, medical malpractice and other preventable incidents. It can also be caused by assault, crimes and violent acts.
If you believe that your loved one's death was wrongful, you may have grounds to file a civil claim. A wrongful death cause of action pursues financial damages, or compensation, for related losses. It also seeks to hold someone accountable for causing the preventable death of your beloved family member. Filing a wrongful death lawsuit can help you find closure and peace by achieving justice for yourself and your loved one.
How Our Butler County Wrongful Death Lawyers Can Help Seek Justice
Our Butler County wrongful death attorneys have heard enough stories from those who have lost a loved one to understand what you are looking for. Justice is not about getting a financial windfall. For most families, the main thing they want is to hear someone admit that what happened to their loved one was wrong and should not have happened, or to receive the vindication of a judge or jury delivering the verdict that their loved one's death was wrong.
No one would ever wish to lose a loved one in this way, and no amount of money can make up for their loss. Nevertheless, there are often expensive medical bills from their final hours of life. There are funeral expenses to pay, and there is the future to think of as well. While no amount of money may restore what you have lost, it can prevent the tragedy of their loss from creating a financial tragedy as well.
Who Can File a Wrongful Death Claim in Pennsylvania?
Unlike many other states, Pennsylvania law preserves the right to file a wrongful death claim for the personal representative of the decedent's estate in the first six months. The personal representative, also known as the administrator or executor of the estate, may have been named in the decedent's will. If not, the courts will appoint this individual. It is typically a family member or close friend of the decedent. 
If the personal representative doesn't file a claim within six months, the ability to bring a wrongful death cause of action is given to any of the decedent's beneficiaries. One beneficiary may file on behalf of them all. Beneficiaries may include a surviving spouse, children or parent. If you aren't sure if you are eligible to file a wrongful death claim in Butler County, consult with our lawyers.
What Damages Are Available in a Wrongful Death Lawsuit?
At Dallas W. Hartman, P.C., our Butler County personal injury attorneys know that most families and individuals don't come to us about wrongful death claims because they want to make a profit. They – like us – are on a passionate pursuit of justice for a loss of life that should never have happened. With that being said, requiring one or more defendants to pay is a form of justice in itself. Oftentimes, a wrongful death lawsuit can result in greater justice than the criminal justice system can alone. A successful wrongful death lawsuit could reimburse you and your family for the following losses, and more:
Reasonable funeral and burial costs

Medical expenses connected to the decedent's final injury or illness

The cost of administering the decedent's estate

Loss of the decedent's wages and employment benefits

Loss of the decedent's household services, society, love, companionship and guidance

Punitive (exemplary) damages if the defendant is guilty of gross negligence or intent to harm
In Pennsylvania, financial damages from a wrongful death claim go to the surviving spouse, children and/or parents. If these parties don't exist, the personal representative can seek compensation for other beneficiaries or the estate, instead. Keep in mind that an insurance company may not offer your family a fair settlement for a wrongful death claim right away. You may need to negotiate and submit a counteroffer with help from an attorney to receive fair financial compensation.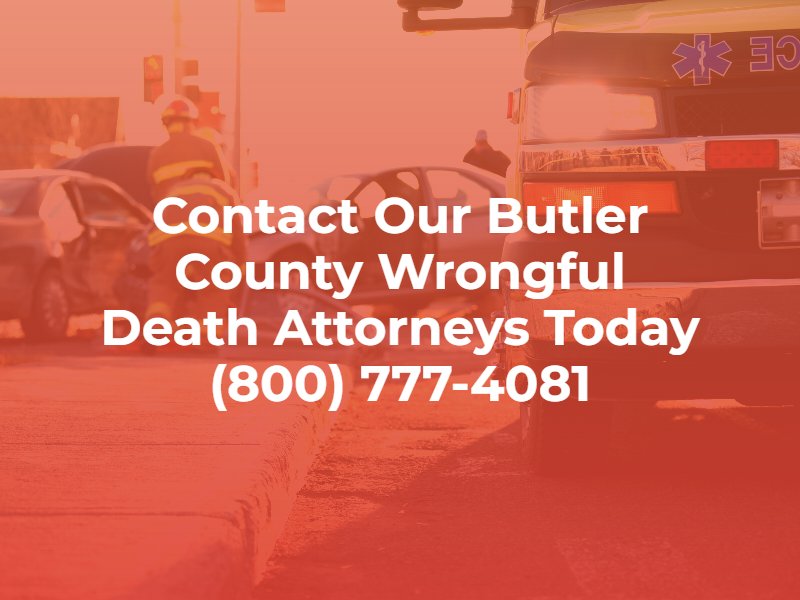 What to Look For When Choosing a Wrongful Death Attorney
It is important in choosing an attorney to handle your wrongful death case, that you find an attorney who has the experience to manage your case well, and the sensitivity that makes you comfortable working with them for what may be a long process. Determining the exact cause of your loved one's death, and how the other party was at fault can be complex. You want a skilled wrongful death attorney who will seek to get you the financial compensation you deserve, while fully aware that no amount of money can compensate emotionally for their loss.
Time Limitations for Filing a Wrongful Death Lawsuit
Pennsylvania law does place strict limits on how long you have to bring a wrongful death claim. In Butler County, unless there are extraordinary circumstances, you must file a claim within two years of the death of your loved one. While you are grieving and attempting to put your life back together after your loss, two years can go by very quickly. If you believe someone else's negligence caused your loved one's death, do not put off taking action in pursuing your claim.
Contact Our Butler County Wrongful Death Lawyer Today
When you contact the law offices of Dallas W. Hartman, P.C., we will help you set up a free, no-obligation consultation with one of our attorneys. Our Pennsylvania wrongful death lawyers have been working in Butler County for years and have the experience needed to proceed with a wrongful death claim. We will explain the process to you and help you begin to get the justice your loved one's death deserves. Let us begin taking some of the burdens off your shoulders. Contact us today and find out how our attorneys can help.