Car Accident Attorney in Erie, PA
A car accident is a frightening and traumatic experience. They often cause serious injuries such as broken bones, lacerations, burns, concussions, and spinal cord injuries. There are almost always one or more parties at fault for a car accident cases. It may not be the person you expect. A car accident is a complex event that can involve more than one at-fault party. The City of Erie, a vehicle part manufacturer, the other driver, or a company all could share fault in a single crash. To get the most out of your vehicle accident claim in Pennsylvania, talk to our Erie car accident lawyers at Dallas W. Hartman P.C.
Why Hire Our Lawyers?
Our Erie car accident lawyers have helped injury victims across Pennsylvania for over 25 years.
The firm of Dallas W. Hartman P.C. has an outstanding reputation for helping victims with their financial needs
 Our attorneys work on a contingency fee basis. We also offer our clients free case reviews.
Car Accident Cases We Handle
Our Erie car accident lawyers have represented clients with injuries from all types of motor vehicle accidents. We've handled truck, car, motorcycle, bicycle, and pedestrian collisions in and around the city – many with record-breaking verdicts and results. In our almost 25 years of experience, we've learned that there are a few common factors often involved in Erie car accidents. They include:
Driver distraction or inattention
Incompetent drivers
Drivers under the influence of drugs or alcohol
Speeding or other traffic violation
Faulty/defective vehicle parts
Poor vehicle maintenance
Hazardous roadway condition
Should I Speak to An Erie Car Accident Attorney?
It is always worthwhile to consult with an attorney after a severe car accident that caused injuries, property damage, or the death of a loved one in. Regular insurance coverage may not cover the damages done. A personal injury lawsuit will almost always result in optimal compensation for medical bills and damages from car accident injuries. In a complimentary case evaluation, you can learn whether your injury case has merit and what it could be worth with help from a lawyer. We work hard to secure maximum compensation for our clients because we know just how devastating a car accident can be. We will help you gather evidence that will support your claim and fight for your legal rights and the best possible outcome.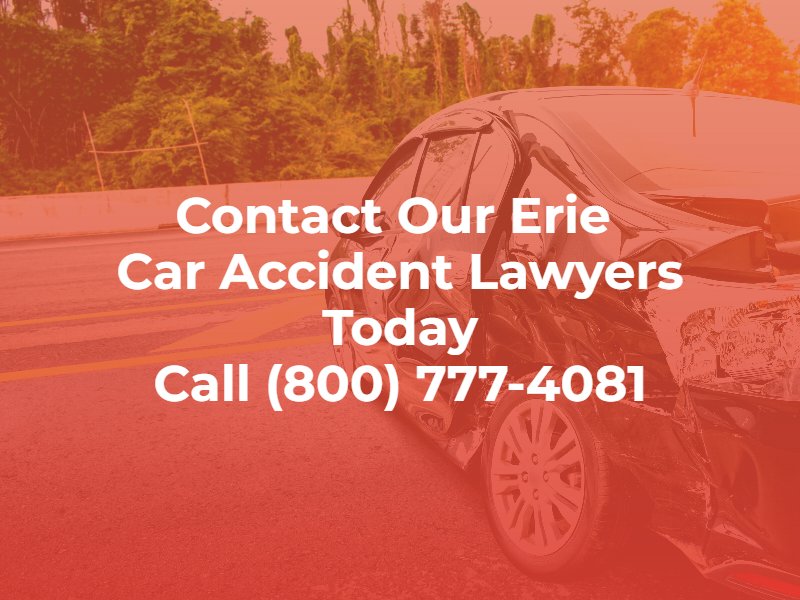 How Many Motor Vehicle Accidents Happen in Erie County Each Year?
Back in 2007, the population of Erie County was 279,092. In 2017 the population was 274,541 in the year 2017.  This is actually a population decrease of 1.63%. Looking back since the year 2007, how many car wrecks have occurred in or around Erie, PA? Based on statistics from the Pennsylvania Department of Transportation, the following is a breakdown of the reported totals of injury-related collisions as well as total collisions in the county:
How Many Deaths Resulted From Car Crashes in Erie?
2011: 31 Fatalities
2012: 26 Fatalities
2013: 35 Fatalities
2014: 29 Fatalities
2015: 28 Fatalities
2016: 27 Fatalities
2017: 25 Fatalities
In 2014 (the most recent year data are available), there were nine fatal accidents in Erie. This was an increase by one death from the year before. One of these fatal accidents involved a drunk driver. Three of the deaths were pedestrians. Not all car crashes have resulted in death. Many cause injuries that require hospital stays and expensive medical treatment. Almost all result in costly property damage to one or more vehicles. Consulting with an Erie personal injury lawyer can help you learn whether you can recover these damages from the at-fault party.
Erie Car Accident Attorneys – Free Consultations!
Get the Most for Your Claim with Dallas W. Hartman P.C. Our Erie car accident lawyers settle most claims successfully during negotiations with your insurance company. Our lawyers are experienced in the courtroom and prepared if a trial is necessary to fight for just compensation. We're ready to do whatever is necessary for our clients' well-being. Learn more about your specific car accident case when you contact us to schedule a free consultation with our car accident attorneys in Erie, PA. Learn your legal rights! Call today! (814) 461-8844